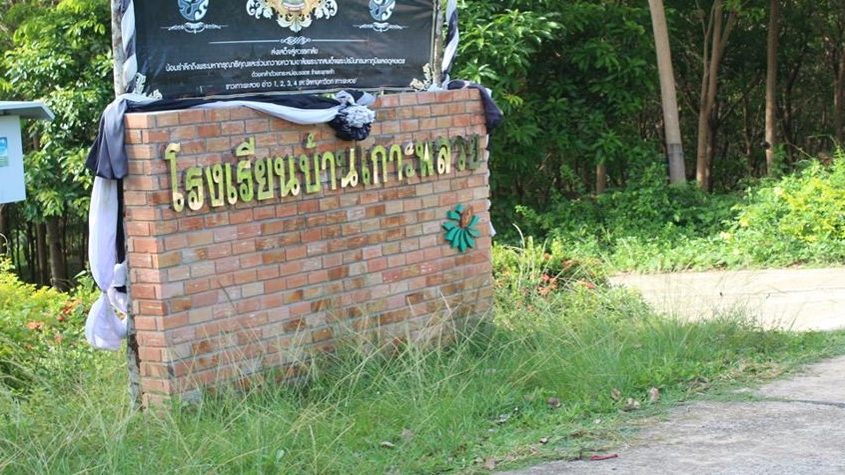 Information Center Development for Education and Tourism in Ko Phaluai Project held between May 22nd – 25th , 2017 at library of Ban Ko Phaluai School, Angthong Sub-District, Ko Samui District, Surat Thani
Rationale
            Suratthani Rajabhat University is an organization that will help Ko Phaluai to become a sustainable clean energy island. Representatives from different faculties and departments of the university were brought there to explore the route being used to prepare a tourism manual and to promote tourism in Ko Phaluai along with a community forum for comments and questions from the villagers. The faculties and departments will continue to develop Ko Phaluai by using the science of their own.
The central library under the Office of Academic Resources therefore has arranged such a project to develop the school's library of Ko Phaluai by educating the villagers about librarian, knowledge about decimal system by Dewey, correct book categorization, library corner arrangement, and book maintenance. There are about 1,620 titles available.
Objective
To educate librarian teachers and villagers.
To improve the library as a tourism learning center for Ko Phaluai.
To equip the participants with ability to create their own media.
Procedure
Arrange a workshop on preparation of books, book categorization, bookshelves organization,  and book maintenance.
Arrange a workshop on improving the library to become a learning center for librarian  teachers and local personnel.
Arrange a workshop on creating promotional media for the librarian teachers and local  personnel.
Summarize the project implementation and monitoring.
Expected Results
The librarian teachers and local personnel will gain knowledge from the training.
The library becomes a learning hub of tourism of the community in Ko Phaluai.
The participants will be able to create promotional media by themselves.
Procedure
Explore the library.
Prepare materials and equipment for the project.
Clean the library.
Arrange a workshop on library information resources management.
Categorize books according to Dewey's decimal system.
Stick colored category stripes and put the books on shelves.
Prepare different boards, knowledge corners, and promotional media.
Monitor the use of the library of Ban Ko Phaluai.