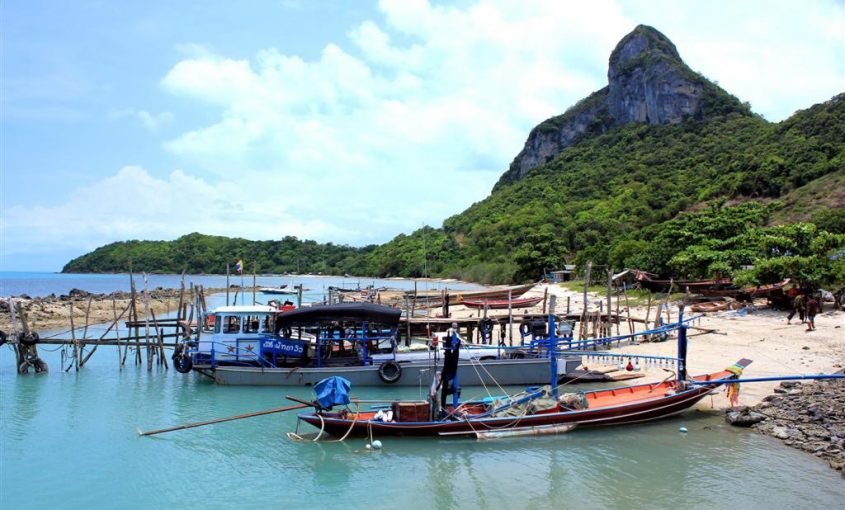 Local Food Culture Project on Donsak – Phaluai Tourism Route
Food culture is one of the cultures that keeps changing all the time. It is a culture in which people from different cultures learn and share together. Seemingly, it represents concrete reflection of local habits, wisdom, and ways of life. In addition, ways of consumption, proper seasons, or different believes of consumption are absolutely derived from experiences of ancestors. Each type of food is closely related to climates and health of people living in each area. It is related to both food and beliefs especially looking for raw food which have differently been controlled by beliefs believing that food in each area are mostly beneficial to the body.
Surat Thani Rajabhat University is an institution which is close to local communities and has a policy to develop communities to be better. Therefore, Donsak – Phaluai trousism route development project has been developed in order to make communities become tourist destinations according to the context of each community. To reach our goal, each faculty had been assigned to study each community and collaboratively develop it with local people from different communities located in Ban Khao Kloi, Ban Nang Gum, Ko Raet, Ban Park Klong Donsak, Ban Ko Nok Phao, and Ko Phaluai, where they can become new tourism routes.
The project organizer has gathered many local cultures on the Donsak – Phaluai tourism routes in order to promote good food of the communities to tourists, which tourists can taste and buy some as souvenirs whenever they drop by.
Ban Khao Kloi Food Culture (Hua Klong Upstream)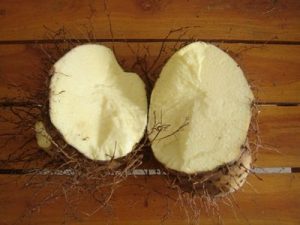 Kloi (or Wild Yam) It is considered a local food. Kloi is an herbaceous plant that has been consumed since ancient times. Local people love to eat it boiled or cook it with rice. It can be cooked in many ways. It tastes good with sugar and coconut. It can be steamed with glutinous rice which finally can becomes a sticky rice custard, or sprinkled with sugar and sesame. People also cut it into thin slices, dip in frying flour, and fry it, which looks like fried bananas coated with sugar. It can be made as Kloi mash, crispy, rice cracker, or Bua Loy (a Thai dessert), for examples. Firstly, before it can be eaten, its toxin must be cleaned through slicing into thin slices and soaking them in salted water. The slices should be soaked in salted water for several times to get rid of toxic substance called Dioscorine, an alkaloid that is well soluble in water. Another simple way is to perfectly peel off the skin, then cut it into slices, which should be around 1 – 1.5 cm thick. Then, put some sliced pieces in a container about 10 cm thick and sprinkle salt over them about 1 – 2 cm thick back and forth. Leave the container overnight. On the next day, clean the fermented slices and put them in a raw cloth or thin cloth bag. Take a heavy load over the bag to squeeze out the toxin substance and then place the slices in the original container. Add water in the container over the slices and leave it overnight. On the next day, clean them up and repeat the steps for 5 – 7 days in order to be safe from the toxic substance and become edible. It can be cooked or dried for preservation purpose. Put the dried slices into water so that they can be steamed or cooked later on. All this information reflects the knowledge and local wisdom which has been passed on for a very long time.
Ban Nang Gum Food Culture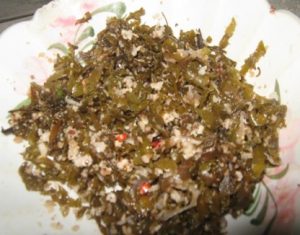 Sarai Kor Salad (or seaweed salad) It is a type of seaweed that grows in shallow sea water. It grows up into a clump with soft stem stalks which is the source of its name. Local people tend to make it a salad. They clean it first with water and then put it in hot water for a short period of time to clean it. People love to add scallops cut into pieces, fresh shrimps or fresh squids instead of other ingredients such as grated coconut, grilled peanuts, dried shrimps, shallots, fresh chilies, for example. The seasoning is not much different from a usual salad. They tend to add tamarind juice and a little bit of shrimp paste in order to add flavor. This soup is not eaten all year since local people can get this type of seaweed when the sea water level is low only.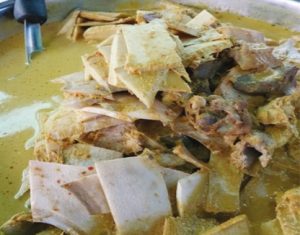 Chicken Curry with Meng Prao (Meng Ma Prao) It is the coconut shell which is still young in preparation. The first step is to choose a young coconut and then cut it open into 2 portions. Next, cut them into small quarter like the way we do with watermelons. After that, use a knife to take off the young coconut shells and cut them into 1 – 2 mm thin slices. Then, put the slices into a clean basin or a pot of water and salt. Cut through the weakest portion until it feels like it is hard enough, you should start with a new one. Once you have enough slices, put them in a salted water and squeeze them until the water becomes harsh, do this step twice. Next, boil them in hot water with salt and pour water away when the slices are cooked. They are ready now. When you have cooked Meng Prao slices and homegrown chicken, put fresh coconut milk from a coconut in the garden, which has already been mixed with shrimp paste, in a hot pot. Steadily stir the mixture and try to prevent the coconut milk become oily. When it boils, add the prepared chicken, blood, and internal organs and wait until it boils again. Add boiled young coconut shell slices. Taste and season as you prefer. Add some sugar to boost its flavor. Put in some tore Kaffir lime leaves. Turn off the stove. It is ready.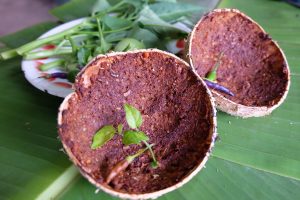 Kaoey Gee (Grilled Shrimp Paste) It is used to eat with fresh cooked rice and fresh vegetables, or congee. Generally, the shrimp paste is prepared by villagers themselves. Authentic shrimp paste can be used since it gives pleasing scent. To make it, villagers normally pound fresh chili, garlic, and scrambled coconut. Then, coat the pounded mixture inside a prepared coconut shell. Coat all over the entire area and grill with a low heat until cooked. It will be ready.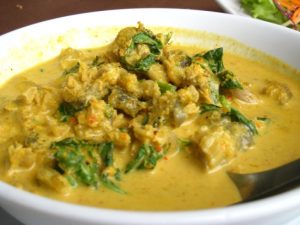 Hed Loob Curry (or Haddon's Sea Anemone Curry) Hed Loob is a short-stemmed sea anemone which is also known as "sea fascia". It is like other sea anemone, it blooms when there is no intervention. If there is anything disturbing, it will be nestled into a rock where it is sticking with. It has many colors with grains at the tip-end which become super sticky when touched. In order to cook it, you have to thoroughly clean it first to take away all sand. Cut it into pieces. Put a pot on heat and add coconut milk and shrimp paste. Gently stir until they are mixed well and add Hed Loob in the pot. Simmer with a low heat until the water roughly dries out. Add a little bit of salt and loaf sugar (based on personal preference). Add cumin leaves and stir well. The overall taste should be slightly spicy. It is ready.
Ban Ko Raet Food Culture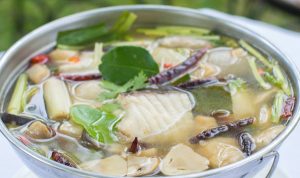 Snapper Sour Soup In order to follow the local recipe of this menu, it begins with pounding red onions, gingers, and peppers thoroughly. Set aside 5 cups of water to boil the mixture. Stir well. Add seasoning, fish sauce, loaf sugar, and stir well. When it boils, add snapper filets and chopped ginger. Add parsley when the snapper filets are cooked. Turn off the stove. Enjoy your meal. Since the weather in our country can easily cause us a cold, this soup can help us to deal with the cold as it consists of so many types of Thai herbs. Eating ginger and peppers helps to breathe easier in such a weather without taking any pill. Ginger helps to dampen the throat. Tamarind juice supports excretory system. Fresh snapper filet tastes sweet.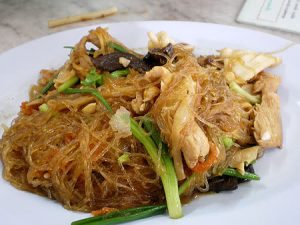 Hainan Stir Fried Mixed Vegetables It is a menu made of gypsum. In order to follow the local recipe of this menu, here are steps to follow. Add lard in a pan and fry with chopped garlic until it gives pleasing scent. Then, add pork or shrimps in and stir until they are cooked. Add black mushroom, needle mushroom and some prepared vegetables such as white cabbage, celery, and onion. Season with salt, fish sauce, and sugar as you prefer. Stir well until everything is cooked. It is ready.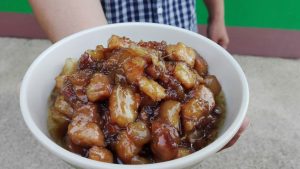 Mu Nao (Sweet Pork Condiment) Main ingredients of this menu consists of streaky pork, small clove garlic, black soy sauce, red sauce, a tablespoon of Chinese whiskey, five-spice powder, bean paste, salt, and loaf sugar. Here are steps you need to follow. It begins with boiling water in a pot. Next, add oil in a pan and put the pan on a heat. Then, add garlic and pepper in the pan and stir until it gives pleasing scent. Add pork, some five-spicy powder, black soy sauce, soy sauce, sugar, and water in the pan. Put the pork into the pot and boil for 30 minutes with a low heat. Serve in a bowl with parsley on top. It tastes so good with fresh cooked rice.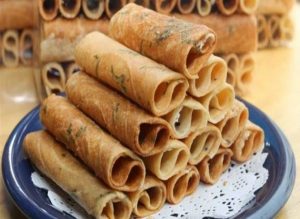 Tong Muan (or Crispy Rolls) Main ingredients of this menu consists of Kite branded all-purpose flour, scrambled coconut, egg, black sesame, sugar, and vegetable oil. In order to follow the local recipe of this menu, here are steps to follow. Sieve flour in a prepared container and squeeze coconut meat and mix with 700 g water. Mix the sieved flour with sugar in a bowl and stir well. Add egg and salt, then mix well. Then, add coconut milk and black sesame in and mix well. Grill the mold with a low heat until it becomes very hot. Apply oil on both sides of the mold and grill it again. Put the mixed flour on the mold and press two sides of the mold together. Grill on the heat again. It will be ready very soon.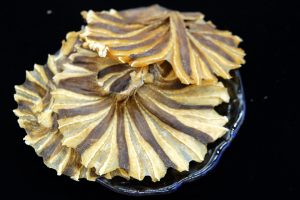 Pla Vong (or Ring-Shaped Fish) Main ingredients of this menu consists of Jong Mong Fish or Tengu Fish (or small stingray) and salt. Here are steps to follow. Cut open a small stingray and make it a ring shape. Soak it in salted water and then dry it in the sun.    
Ban Park Klong Donsak Food Culture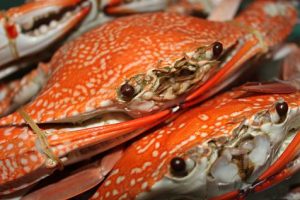 Pu Ma (or Flower Crab) We can make so many dishes out of this kind of crab such as steaming, boiling, frying, or making a curry (coconut milk-based curry or sour and spicy soup). The most popular way is steaming.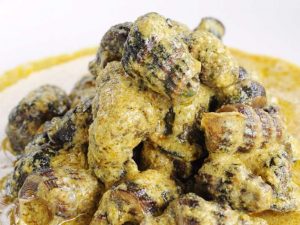 Hoy Jub Jaeng Curry (or Horn Shell Curry) Here are how to cook this menu. Clean the horn shells (You have to clean them thoroughly since there is normally sand and mucus in the shells.) Put a pot of coconut milk, curry, and shrimp paste on a heat and stir well. Add the clean horn shells in the pot and simmer with a low heat. Once the horn shells absorbed the curry, add Kaffir lime leaves, season as you prefer. It should taste a little bit spicy. It tastes so good with fresh cooked rice. It's stunning.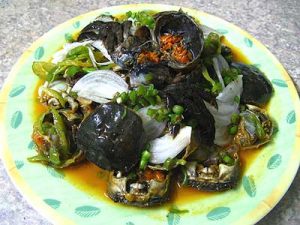 Sour Pickled Crab (or Mangrove Crab) It is mostly eaten raw such as putting it in a salad with a little bit of lime juice, chopped red onions, and chopped fresh chili. Local people love to eat it with the southern sour and spicy soup. You can put it in papaya salad or fruit salad by tearing it apart and mix with your salad without heat cooking.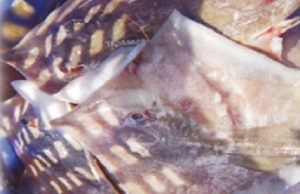 Pla Kem Sen (or Small Stingray) Main ingredients of this menu consist of Tengu Fish or Jong Mong Fish (or small stingray) and soy sauce. Here are steps to follow. Clean the fish and turn it into strips. Blend them with soy sauce and dry them in the sun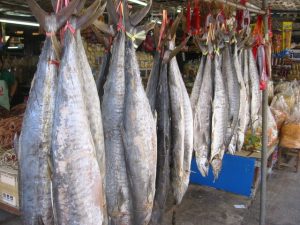 Pla Kem Rah (or Salted Fermented Fish) It is a kind of salted fish that local people turn butterfish into salted fish. Local people love to fry it and eat it with fresh cooked rice. The main ingredients of this menu consists of butterfish and salt. In order to follow the local recipe of this menu, here are steps to follow. Take away internal organs and clean up the fish. Put some salt into water and soak the fish in it. Dry the fish in the sun.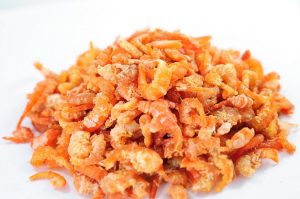 Goong Haeng (or Sun-Dried Shrimp) Here are steps to follow. Clean shrimps with clean water. Next, spread them on a net tray to rinse water. Put a pan of water on heat and add salt by the ratio of 1 kg of shrimp to 100 g of salt. Add a food color substance to make the shrimps looked more delicious. Then, boil the shrimps in salted water until they are cooked. Lay them on a net tray and dry in the sun. Make sure to lay the shrimps thoroughly. The sun-dry process takes a half day.    

Ban Ko Nok Pao Food Culture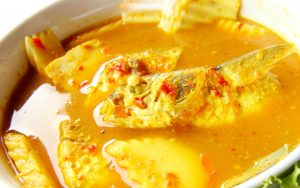 Kaeng Som Pla Gu Lao (or Threadfins Sour and Spicy Soup) Threadfins can be found all year. The local people of Ko Nok Pao love to have it in the sour and spicy soup with young tamarind mixed with limes which tastes so good with fried sun-dried fish or salted fish that they caught from the sea. Here are steps to follow. Put curry paste in a hot pot of water and add young tamarind. Later, take away the tamarind and put in the prepared threadfins. Season as you prefer.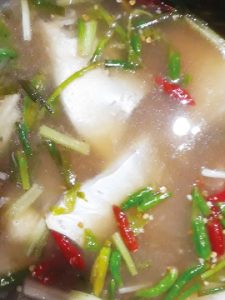 Tom Ho This is a simple menu that local fishers love to cook when they are in the sea. This menu normally requires shrimp, squid, fish, or all together, tamarind juice, fried garlic, spring onion, and parsley. Season as you prefer.
Fried Butterfish with Garlics (or Gray Pomfret/Threadfin) This menu is about frying a gray pomfret or a threadfin which are very fleshy which is suitable for a fried menu. When the fish is done, fry some garlic cloves and pour over the fish and eat with a seafood sauce.
Local Food Culture of Ko Phaluai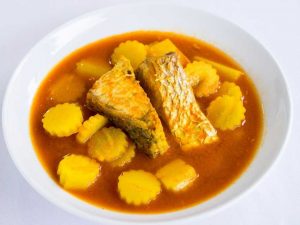 Kaeng Som Pla Kra Bok (or Tamarind Soup and Mullet) In order to follow the recipe, here are steps to follow. Clean mullets with water and remove all fins. Then, make a curry paste by pounding dried peppers, turmeric, garlic, a lot of onions, and salt. Add some shrimp paste. Put dissolved tamarind and the prepared curry into the pot. When the water is boiled, add mullet in for five minutes and season as you prefer.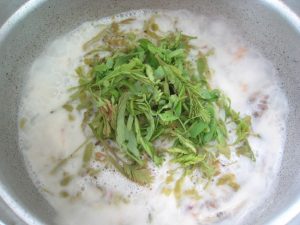 Tom Te Pla Kem with Yord Kham On (or Thai Coconut Curry with Salted Fish and Young Tamarind Leaves) Here are steps to prepare salted fish. Clean fish with water 3 – 4 times. Dissolve the salt and put the fish in so that the fish can absorb the salted water. Then, dry the fish in the sun for two days. After that, prepare coconut milk into a pot with a low heat and add shallots, seasoning, dried salted fish, and young tamarind leaves. Wait until it is boiled. Don't boil it too long otherwise the coconut milk will make your menu not delicious.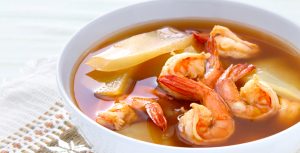 Kaeng Som Kung Malakor (Sour Soup with Shrimps and Papaya) Here are steps to follow. Dissolve tamarind and add into a pot. Dissolve the curry and shrimp paste with the dissolved tamarind paste and put on heat. When it is boiled, add shrimps and sliced papaya and season as you prefer.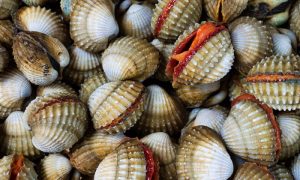 Kaeng Som Hoi Kraeng (or Sour Soup with Cockles) Here are steps to follow. Boil fresh cockles for a short time so that it is easy to pull them off the shell. To boil the cockles perfectly, you have to observe the appearance of the shells. It is ready when the shell starts to open and the firm flesh can be seen. Then, put a pot on heat and add curry paste and shrimp paste into the pot. Add some tamarind paste, vegetable, and the cockles. Season as you prefer.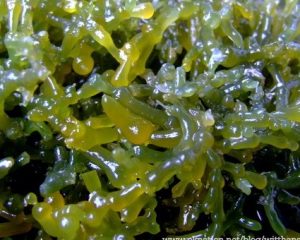 Yum Sarai Kor Hoi Glom (or Gracilaria Salicornia Seaweed Salad with Rounded Shells) This kind of seaweed normally cling to coastal coral reefs which can be collected at low tides. The main ingredients include chili paste (Nam Prik), limes, chili, shrimp paste, and garlic. To make this menu more delicious, you have to clean the seaweed with water and boil it in the hot water for a short time. Importantly, you have to boil it when the water is already boiled. Next, clean round shells and boil them for a short time to make sure they are fresh, tasty, and tender. Then, keep only the lid stick with the shell mussels to make the dish more beautiful and delicious. After that, in order to prepare chili paste, pound chili, garlic, red onions, shrimp paste, lime juice, and mix them well (some additional ingredients such as tamarind paste or anacardiaceae can be added) in this menu. In addition, you can add crab meat, shrimps, fish, or anything you prefer.