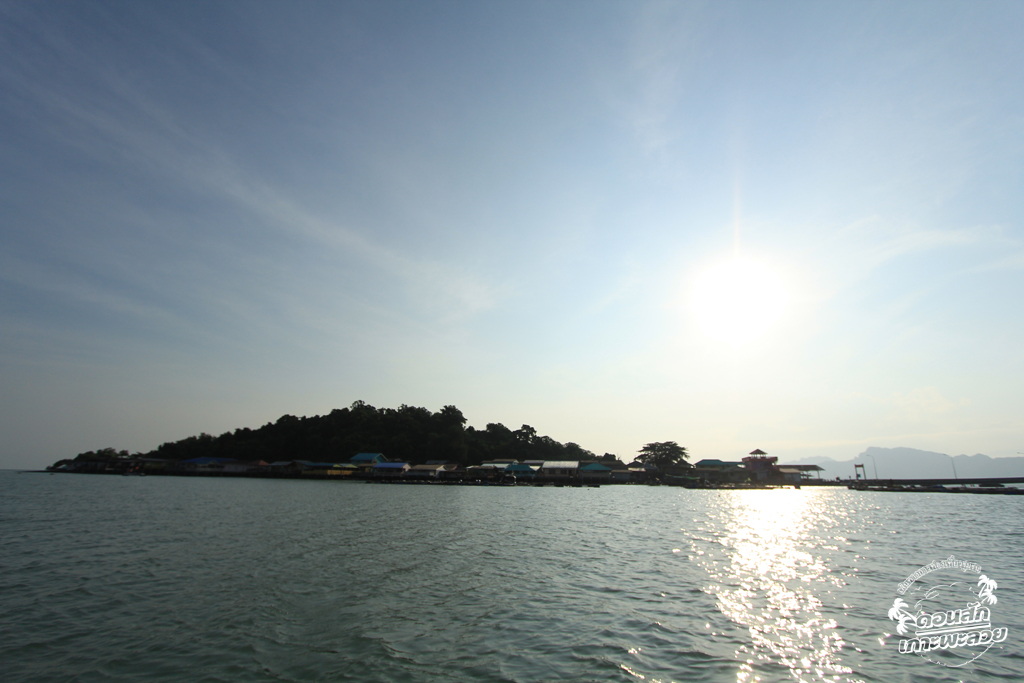 Koh Rat
Koh Rat is located in a scenicarea. On the left-hand side of Koh Rat, we can see Khao Suwanpradit temple, Laem Tuad, Wang Hin beach, and an abandonedpier. On the right-hand side of Koh Rat, we can see the ferry pier, the route to view dolphins swimming in the sea, and the viewpoints forthe morning sunrise and the evening sunset. We can walk to Koh Rat at low tide. Villagers are searching for shrimps, crabs, and shells living among the beach rocks.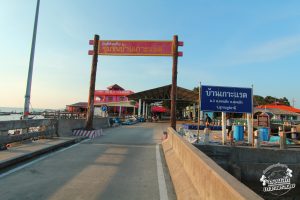 Ban Koh Rat community is small and located in Ban Don bay area, Moo 3, Donsak sub-district, Donsak district, Surat Thani. The name of Koh Rat is originally from the word spelling RAD in Thai which means"rhinoceros". However, Chinese people named this island'Heedeng'which means "paradise lamp". It is also believed that there were a lot of trees named Kheerat around the island so that the island was named Koh Rat, according to the villagers' telling.
From the old Chinese people's telling, there were Muslim people who were first living on this island and immigrating from Narathiwat and Pattani provinces around 1860. They worked as fishermen on the shore, which they found to be abundant with aquatic animals. Accordingly, they settled down on the island.
Tourism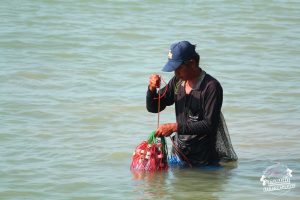 Tourism in Koh Ratstarted after the construction of thebridge was completed in 2009. Before becoming a tourist destination, people came to visit their relatives during the Chinese New Year festival.
In 2009, there were only a few tourists. Thai tourists were invited to Koh Rat by villagers and at that time there was the first homestay owned by Mr. Suthin Sangthong. The price rate for the homestay was not fixed based on the number of tourists. The next year in 2010, the first group of foreign tourists arrived from Germany. They had boy/girl friends on the island and then they invited their friends to travel to Koh Rat. Presently, there are 4 homestays on Koh Rat. Furthermore, they provide various tourist activities such as dolphin sightseeing, fishing, etc. We can watch dolphins swimming in the freshwater area(the sea area that the famous monk touched the salty water with his foot and it then changed to be freshwater in the sea) at Khanom district.
Koh Rat trip for 2 days and 1 night: dolphin and sunset sightseeing, island touring.
There are many ways to go to Koh Rat. On this trip, we drove a car due toour heavy baggage. We took lots of spectacular photos for our readers and it took only 1 hour driving to reach the destination. It is not far away from town. Tourists can take a bus from the bus station in town (Talad Kaset) to Donsak and then take a motorcycle across the bridge to Koh Rat.
From the bridge, we can see the blue sea and feel the sea breeze before reaching Koh Rat.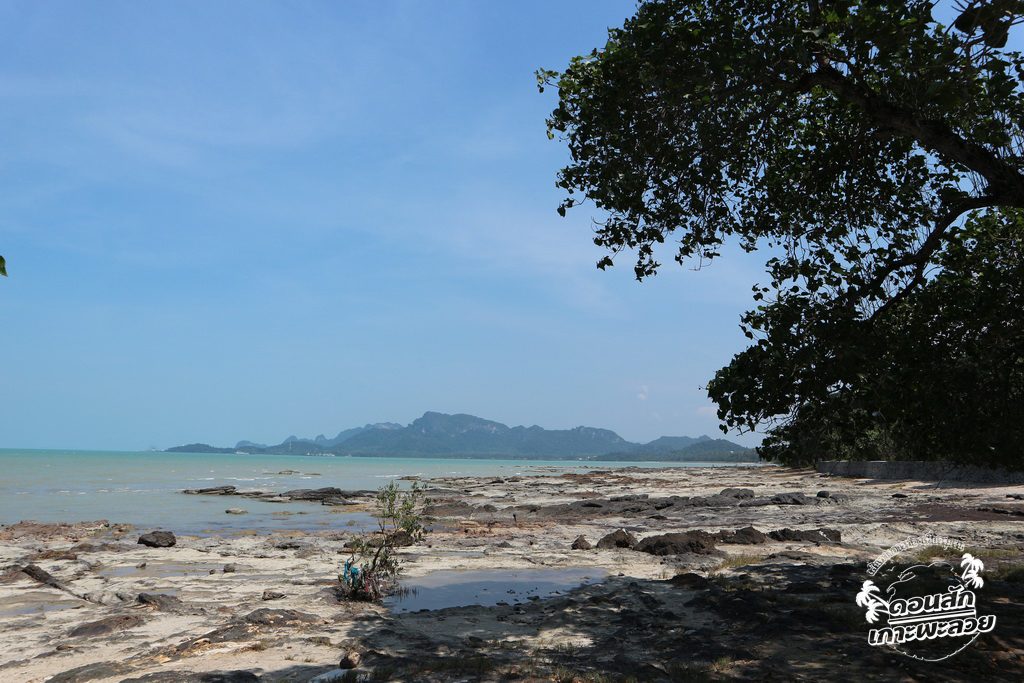 Tourists can do some sea sightseeing from the parking lot before crossing the bridge to Koh Rat. There is a parking lot outside of Koh Rat due to the limited parking space. The bridge got repaired while travelling at that time. From the bridge viewpoint, we can see a bay with a long line of rocks.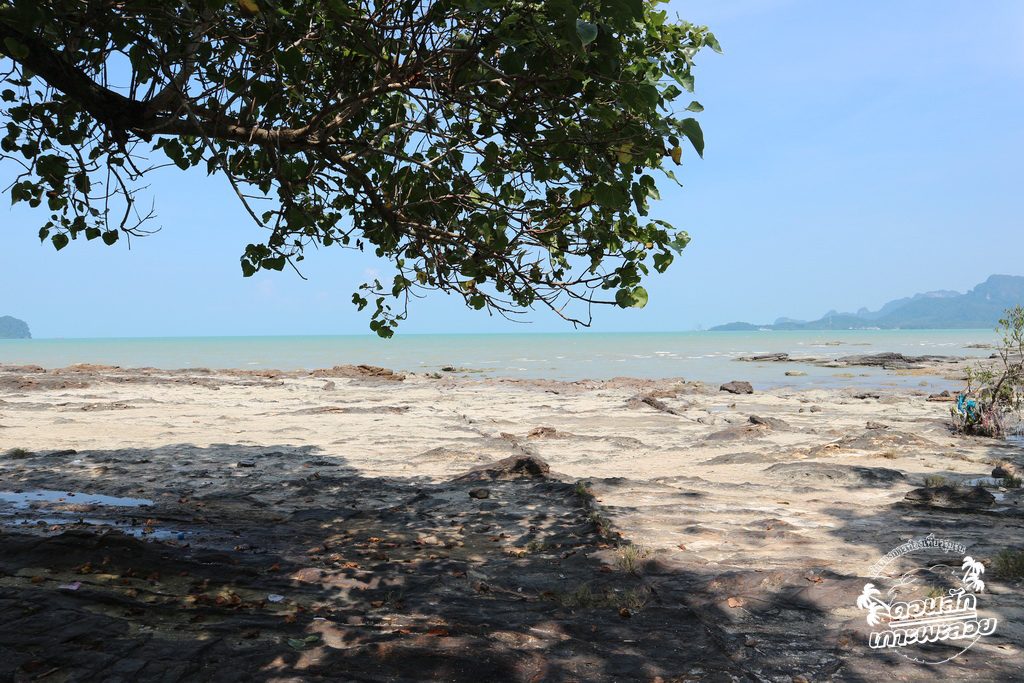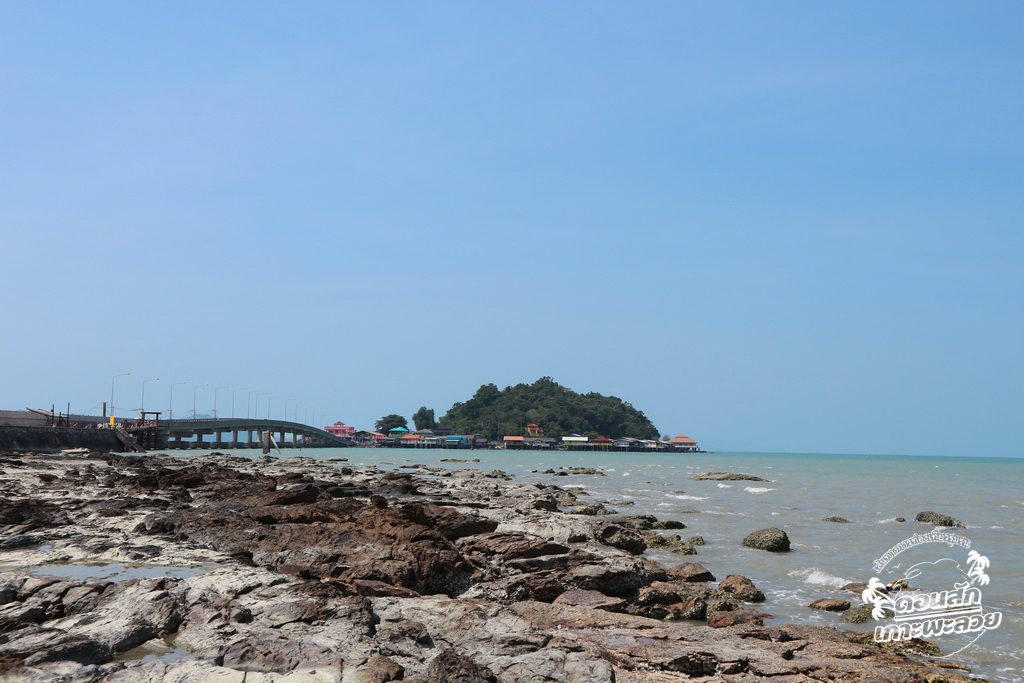 After a while of sightseeing and taking photos by the sea, it is the time to travel to Koh Rat. We tooka villager'sthree-wheeled motorcycle. We contact Teacher Nit who owns the homestay to pick us up sothat we do not need to walk across the bridge. Although it is only 400 meters long on the bridge, it feels good to take a three-wheeled motorcycle. It's such a pity we don't have a picture.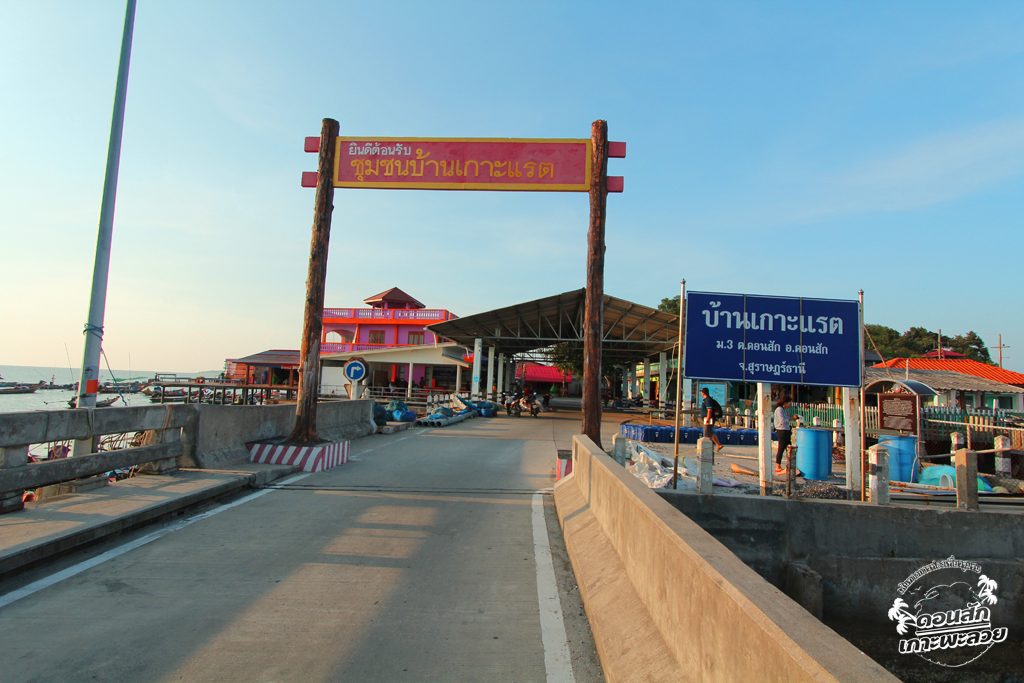 After we arrived on Koh Rat, we see a boardwhich reads 'welcome to Koh Rat community' and go straight to the homestay. There are 4 homestays on Koh Rat. We booked Teacher Nit's homestay.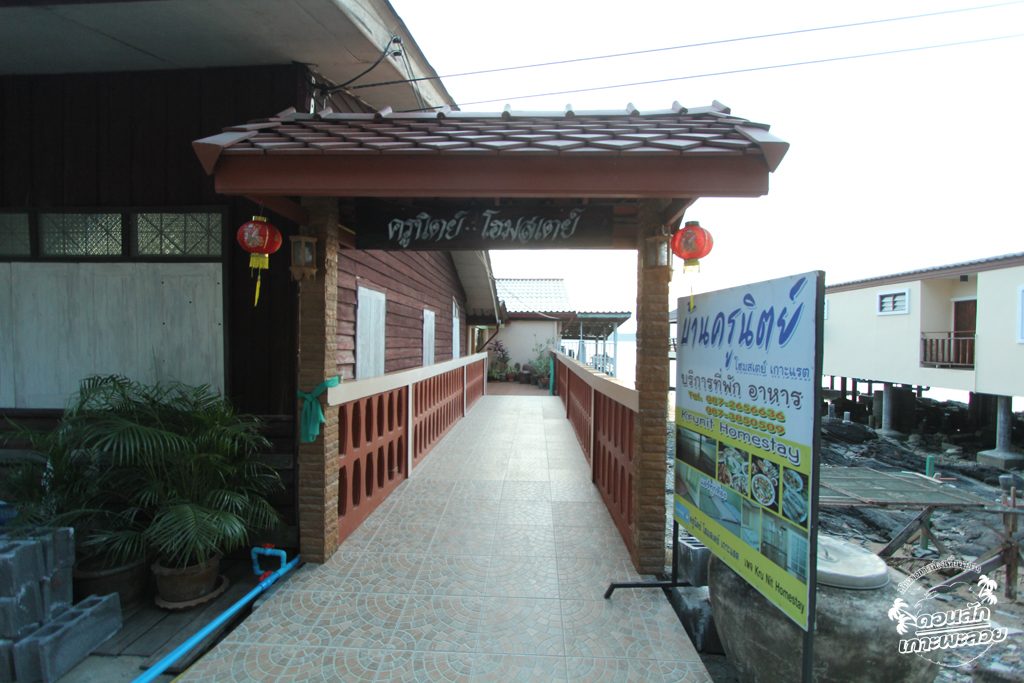 There are many rooms at Teacher Nit's homestay ranging from small 2-person roomsto large 10-person rooms. The large rooms are suitable for a big group of tourists who enjoy sleeping and doing activities together. Our team consists of 5 people so we booked a 4-person room. There is an outside mixed bathroom nearby the homestay balcony.At the end of homestay balcony nearby the sea, there is a dining table and a space for doing activities such as singing and watching TV. Moreover, there is anopen-air space for doing other activities.
After our team put away all our belongings and walked around the homestay, we took a walk around Koh Rat. We found that there are fewer than 100 houses on the island. According to our observation, the villagers are mostly fishermen because there are fishnetsdrying outside most houses. Some villagers also work selling mantis shrimp.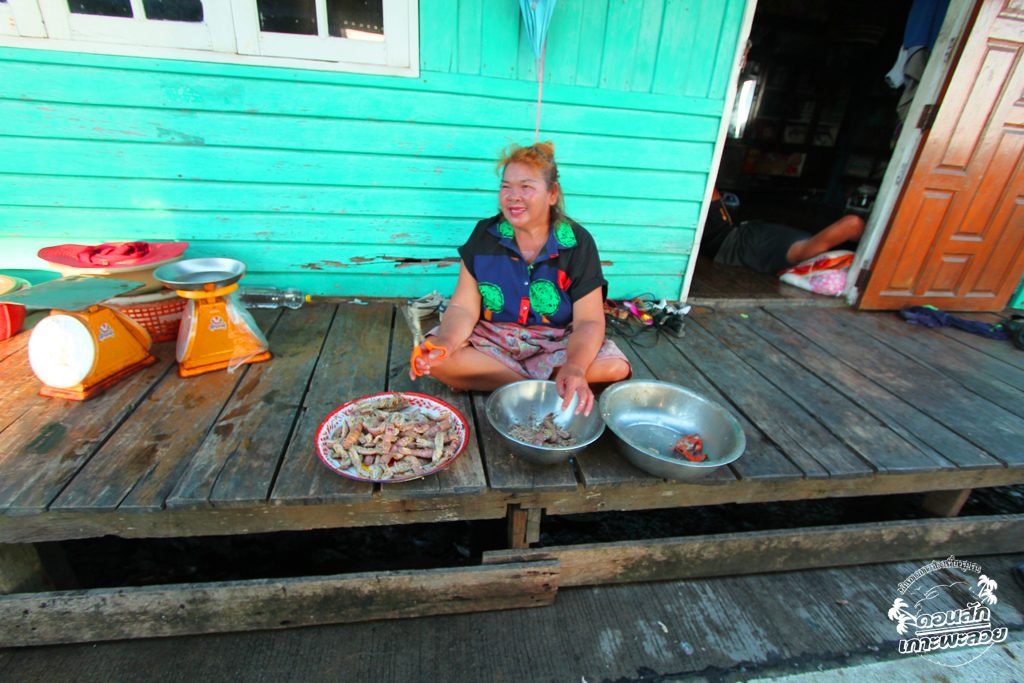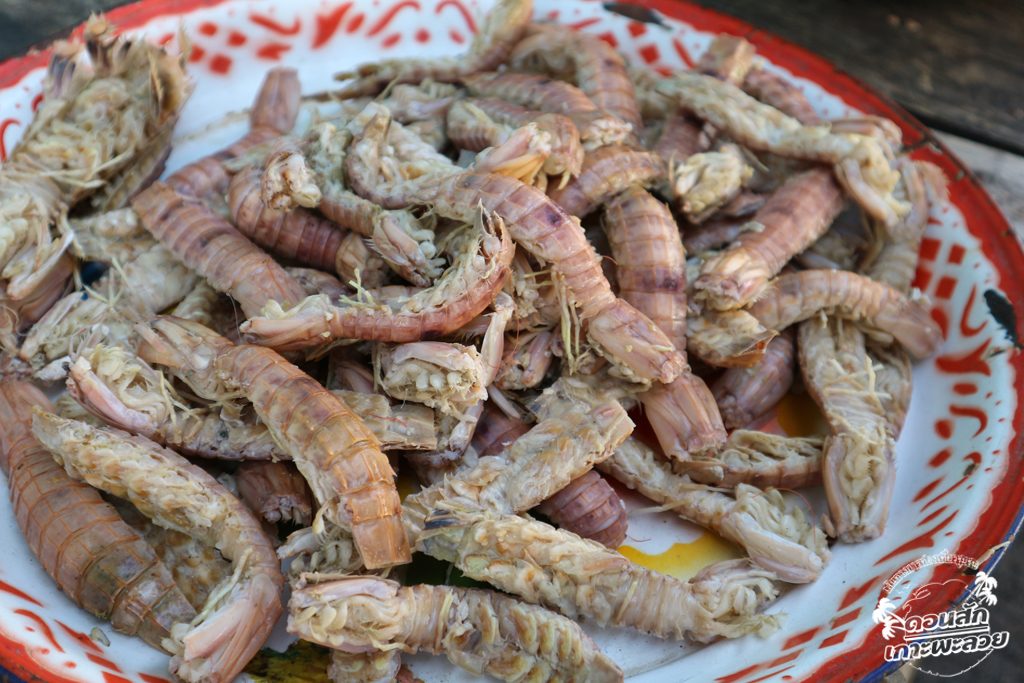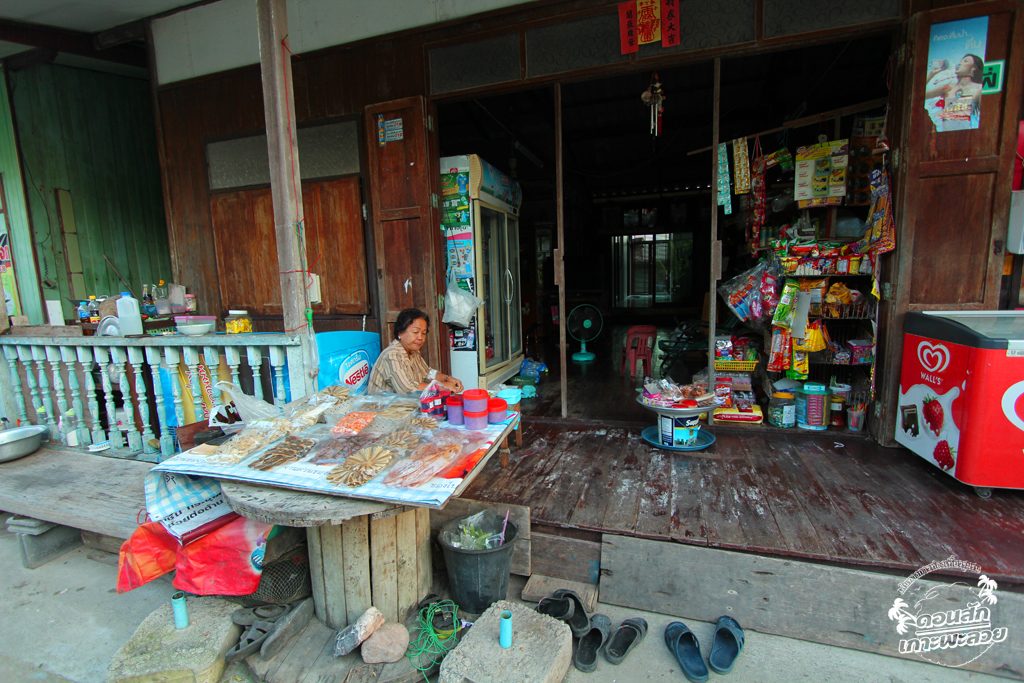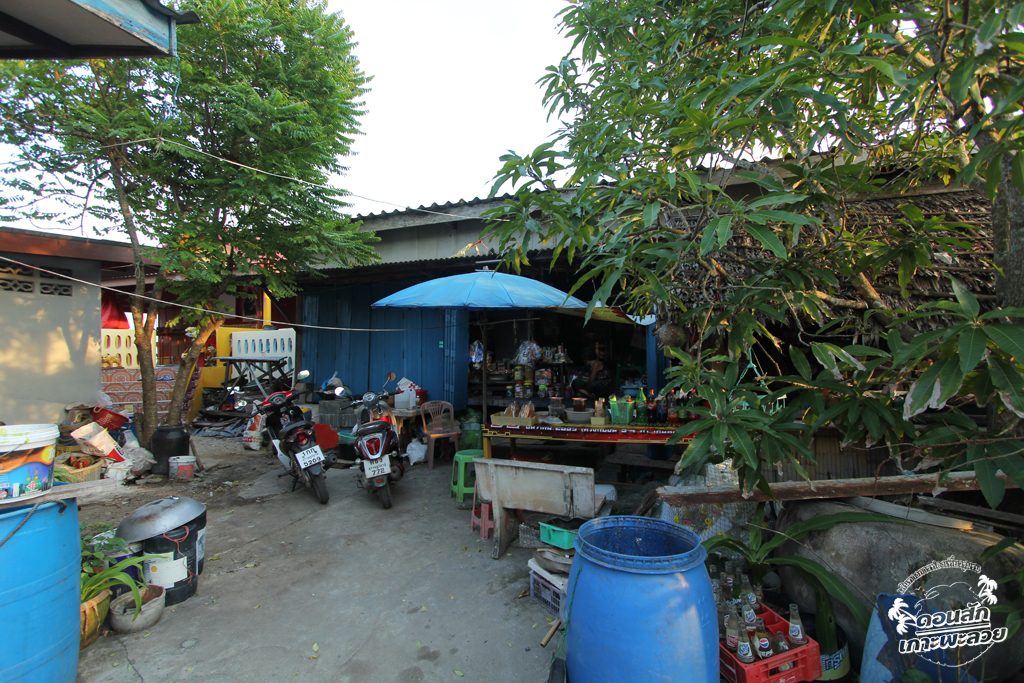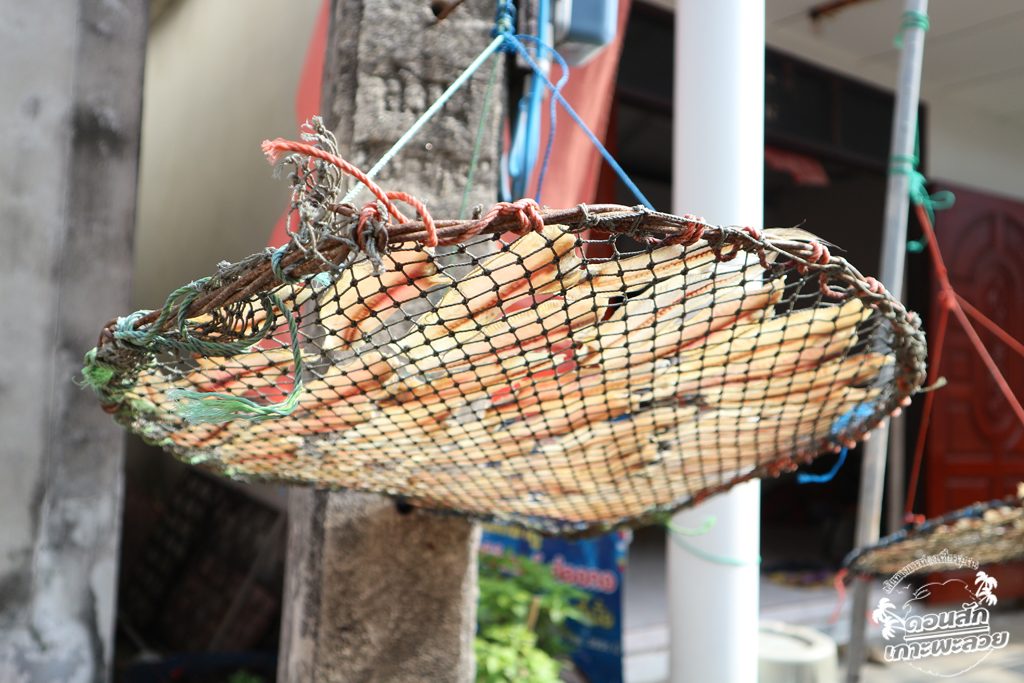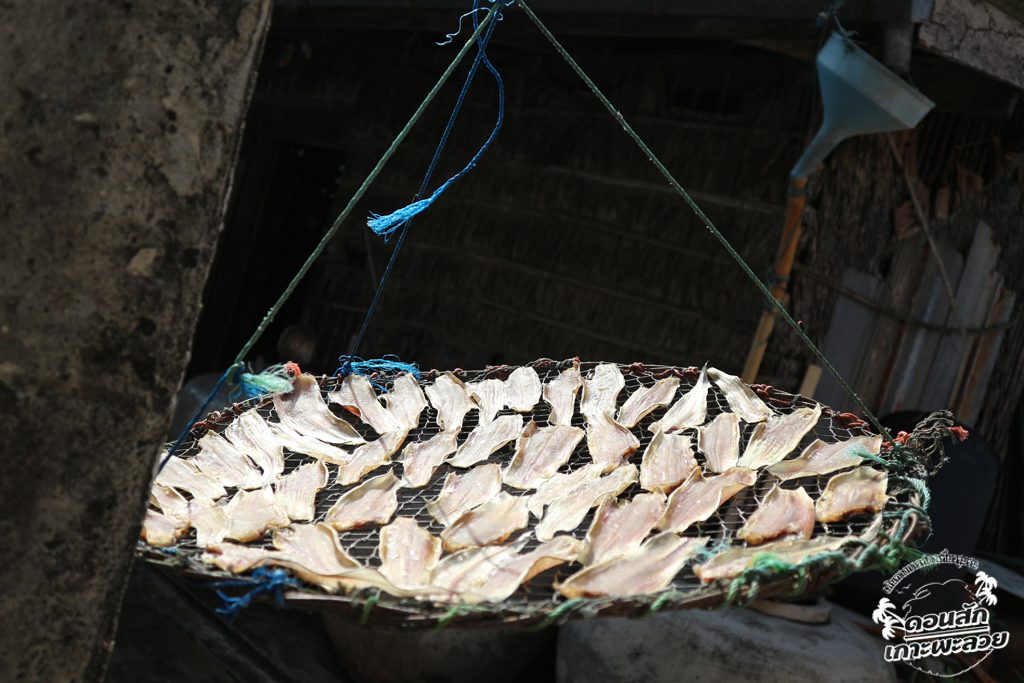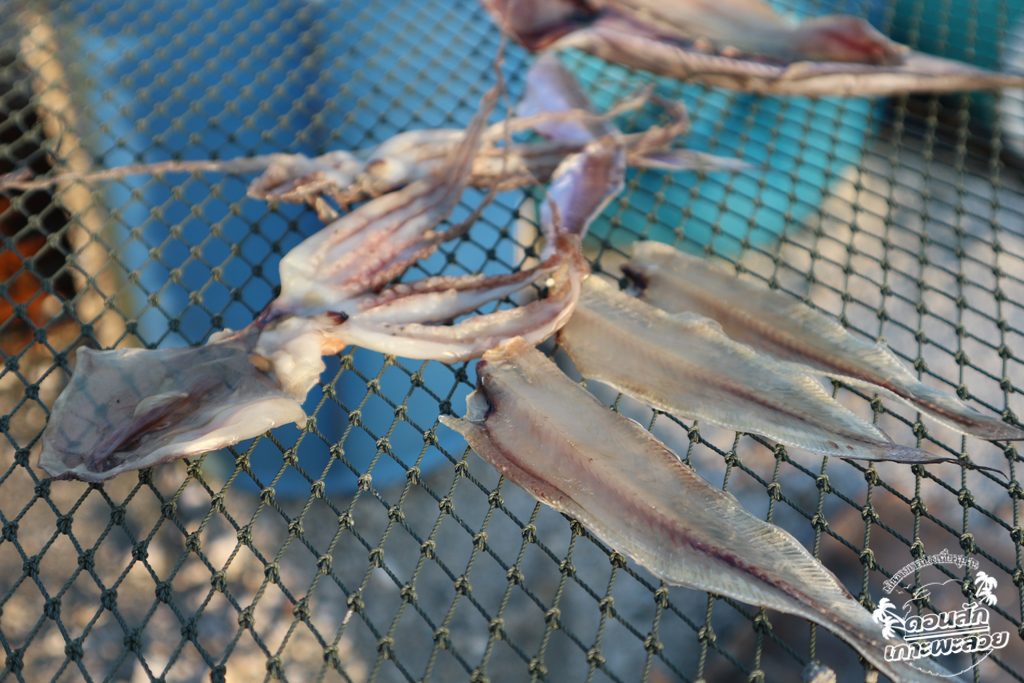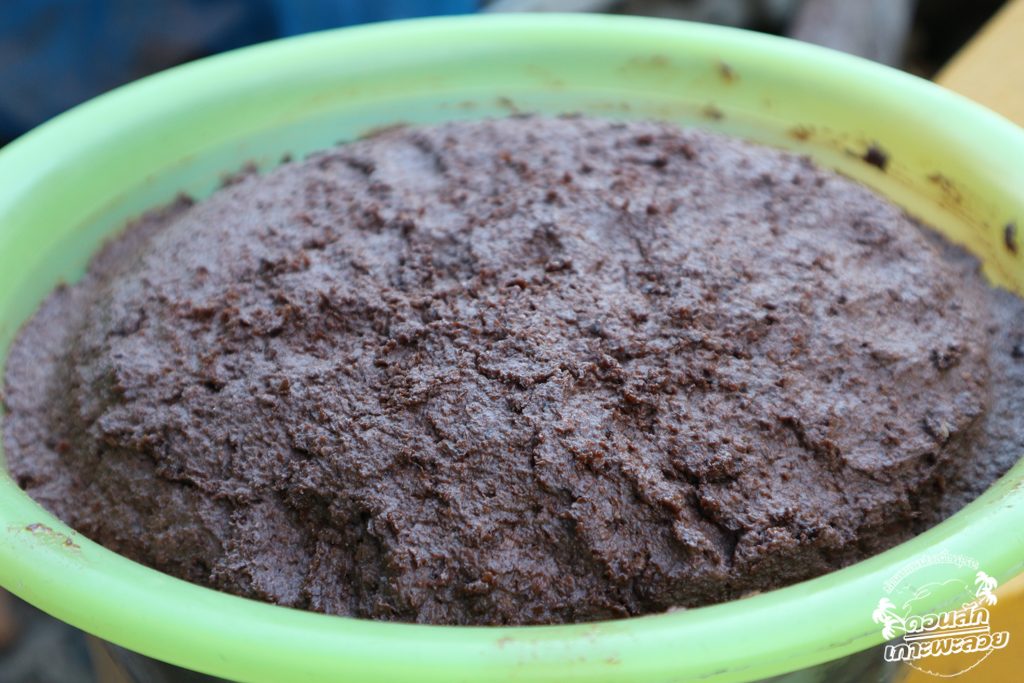 Houses in Koh Rat are made of wood and built closely in a row with a narrow street in the middle. It is quiet and clean. While we walk around the island, villagers greet us along the way. They are so nice and we feel their warm welcome.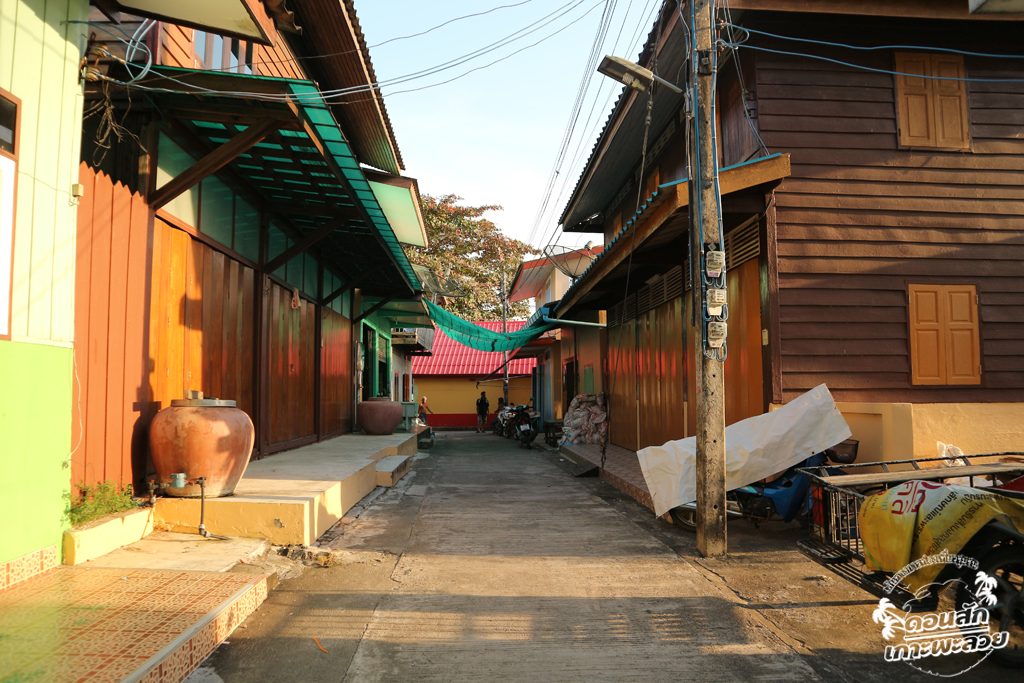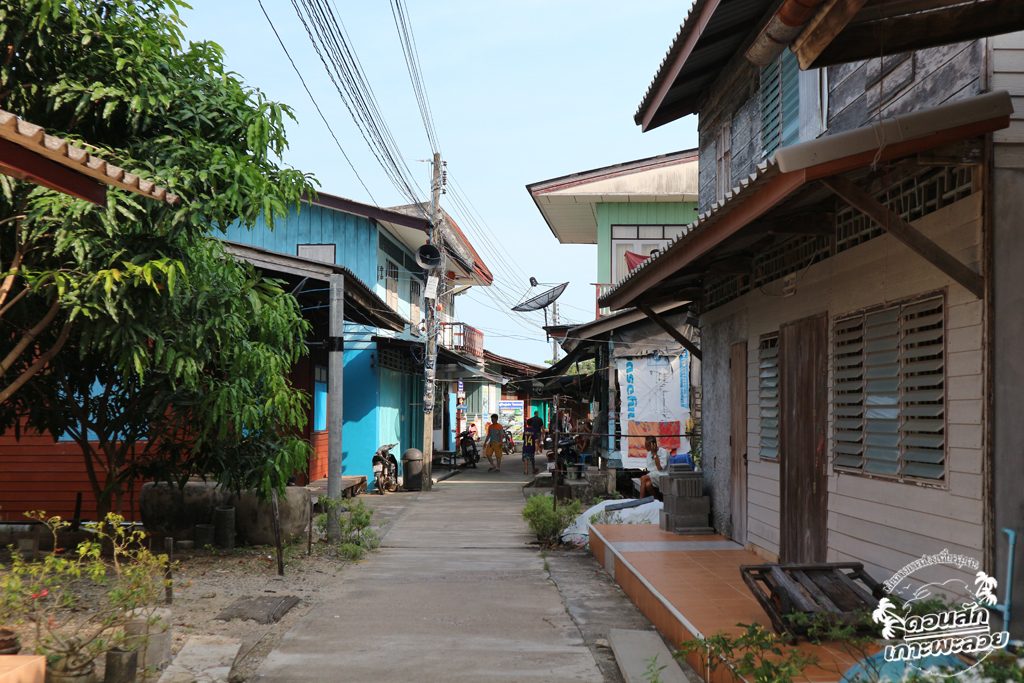 At the entrance to Koh Rat, there is a shrine of Ban Koh Rat. There are many shrines in Koh Rat. It is believed that some villagers emigrated from Hilam Island in China about 200 years ago.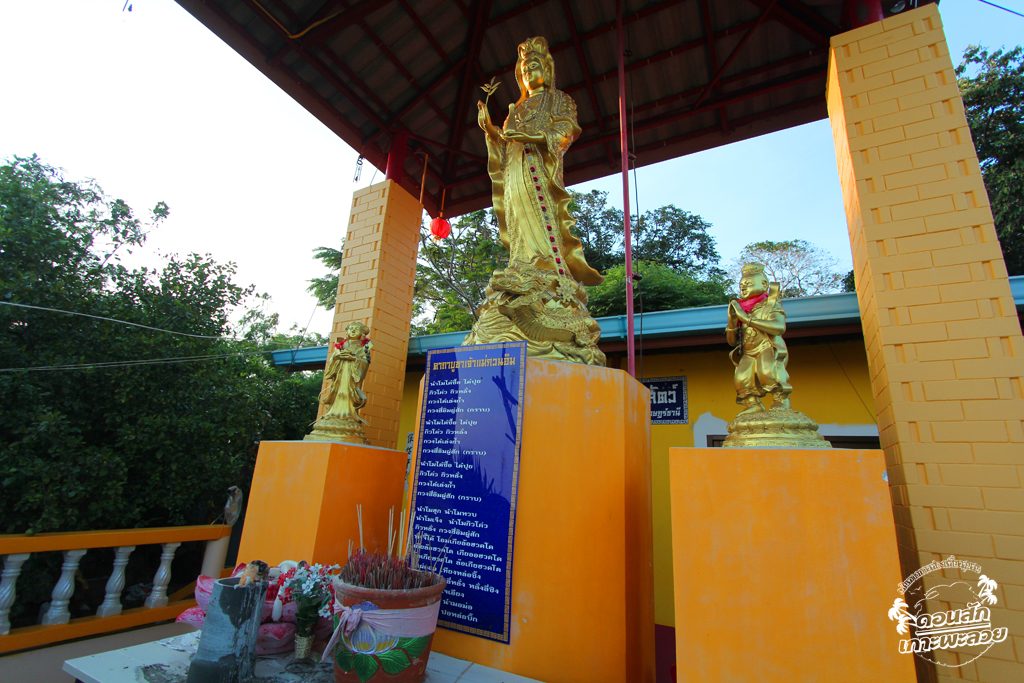 Shrine of the Goddess of Mercy is located on the right-hand side of the island. From the top of the shrine.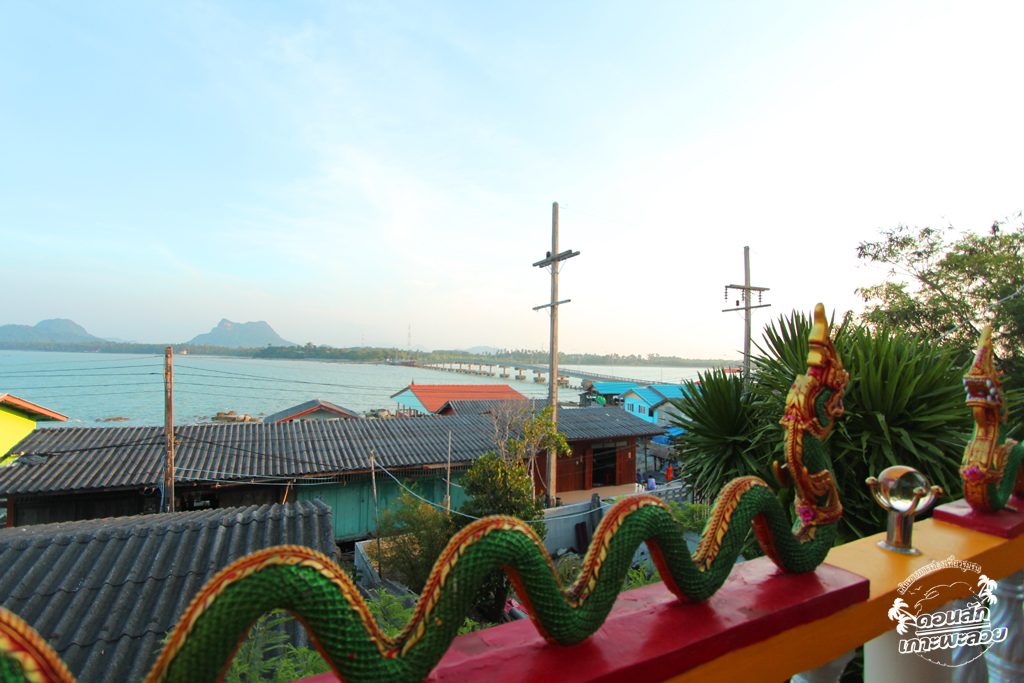 We later take a short walk to the shrine of the Tiger Godnext tothe shrine of the Goddess of Mercy and pay our respects for a while.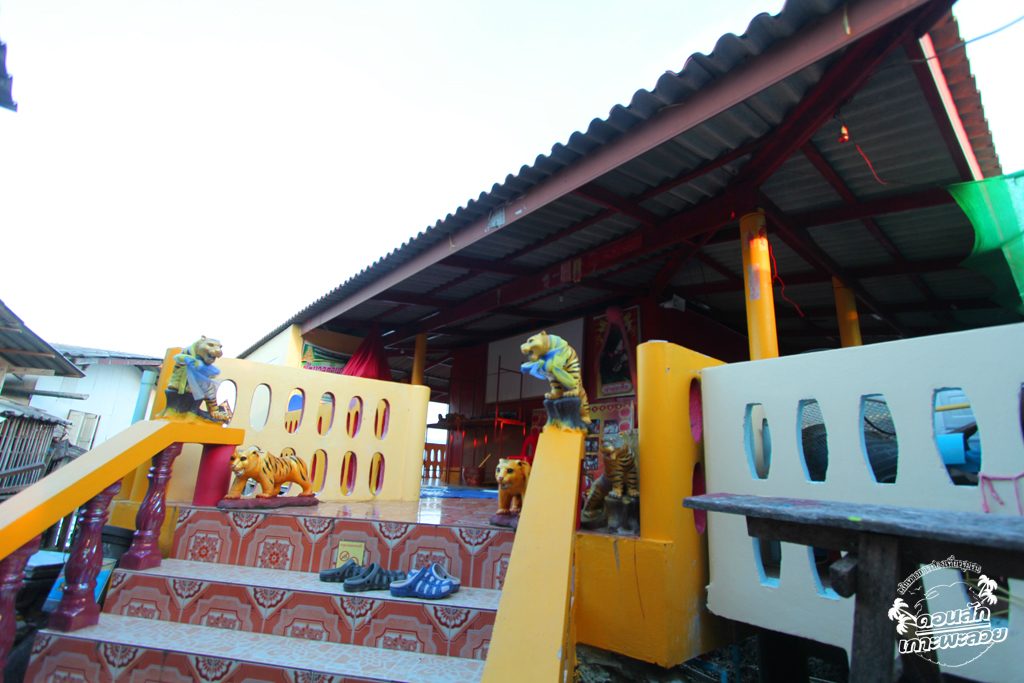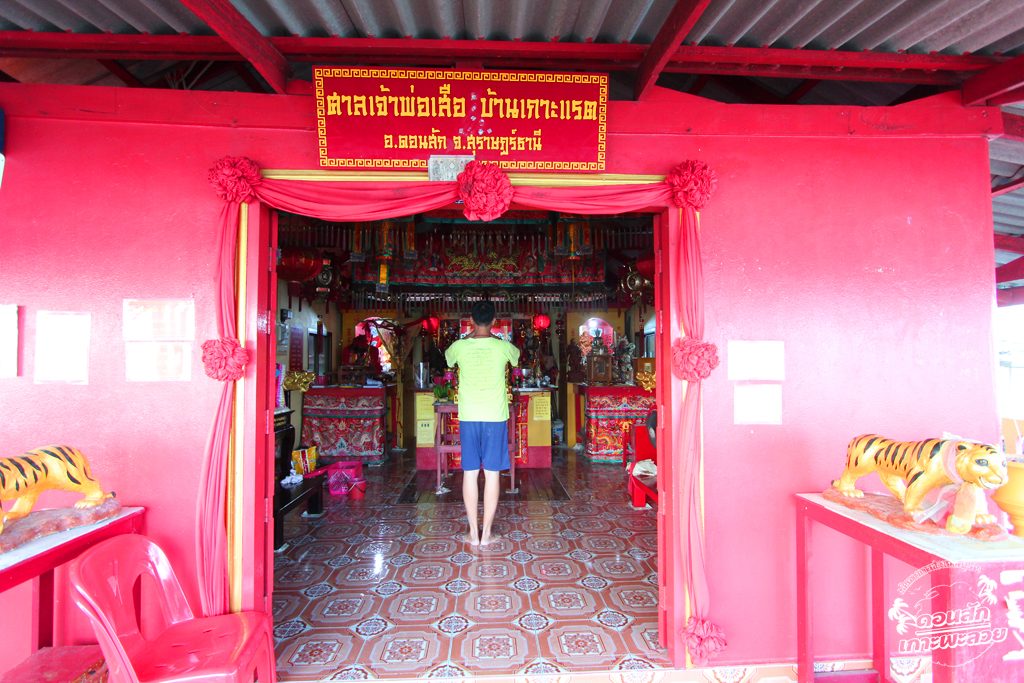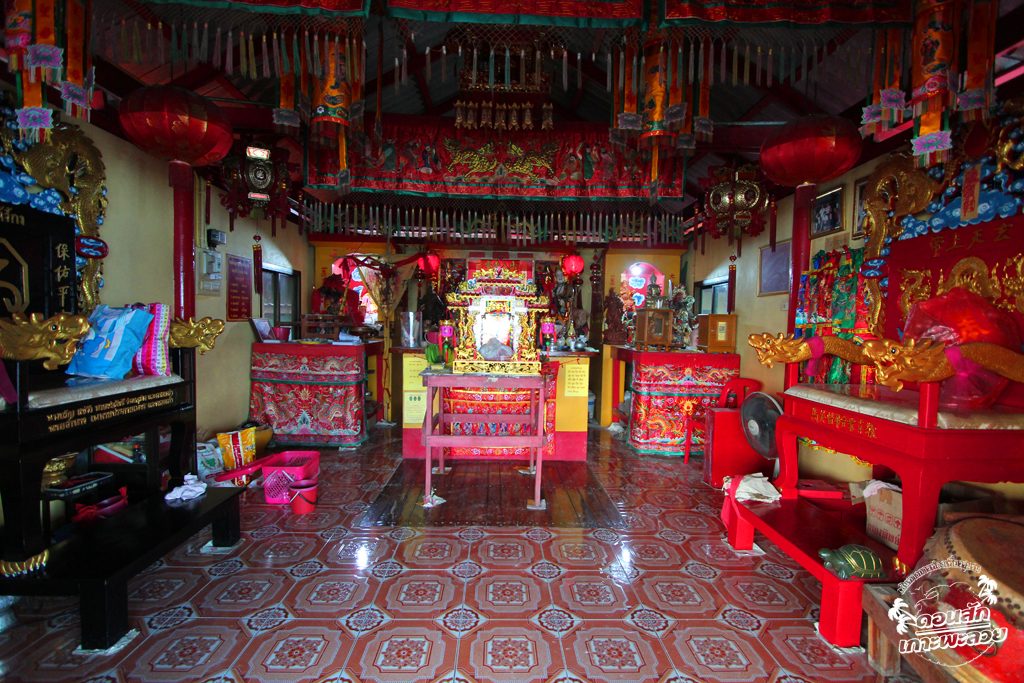 Almost a half trip, we keep walking and notice that there is a pedestrian path for walking around the island. We rarely find houses till the end of the island.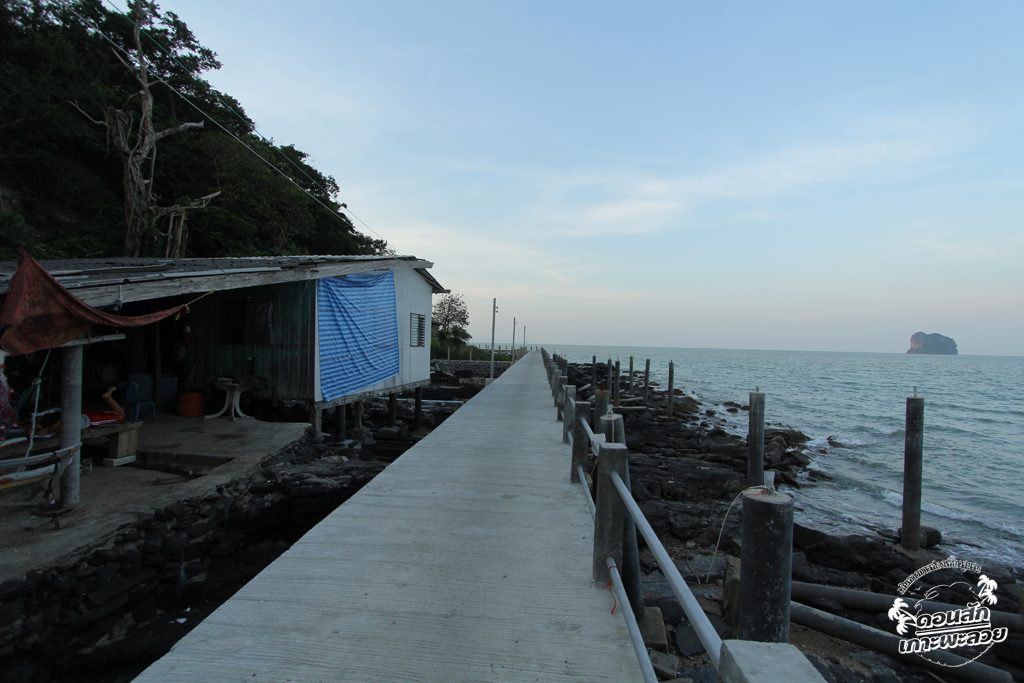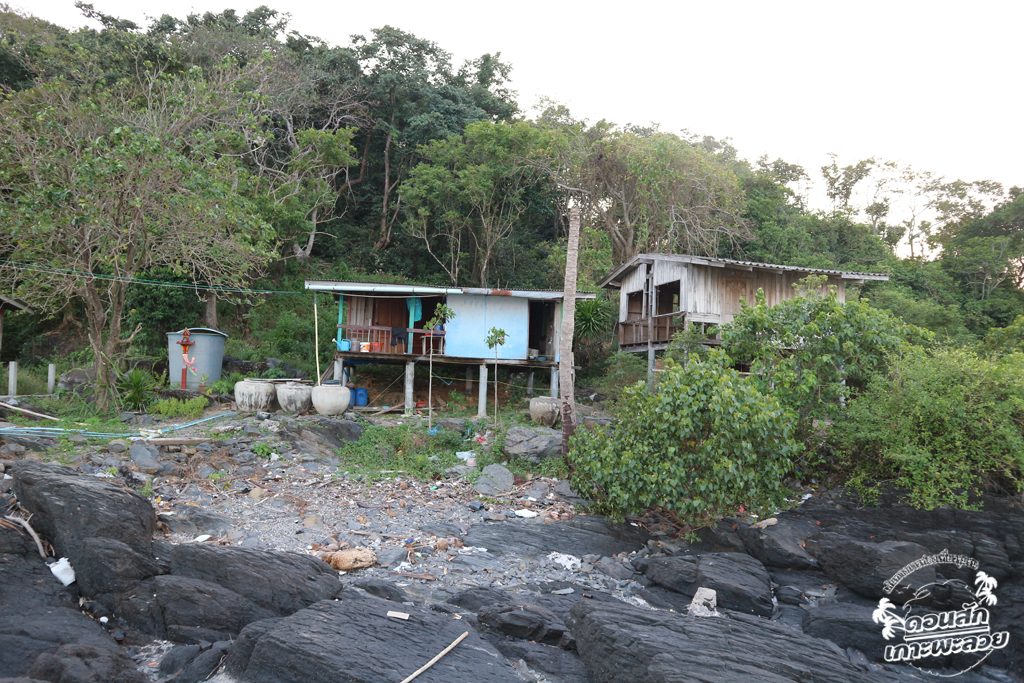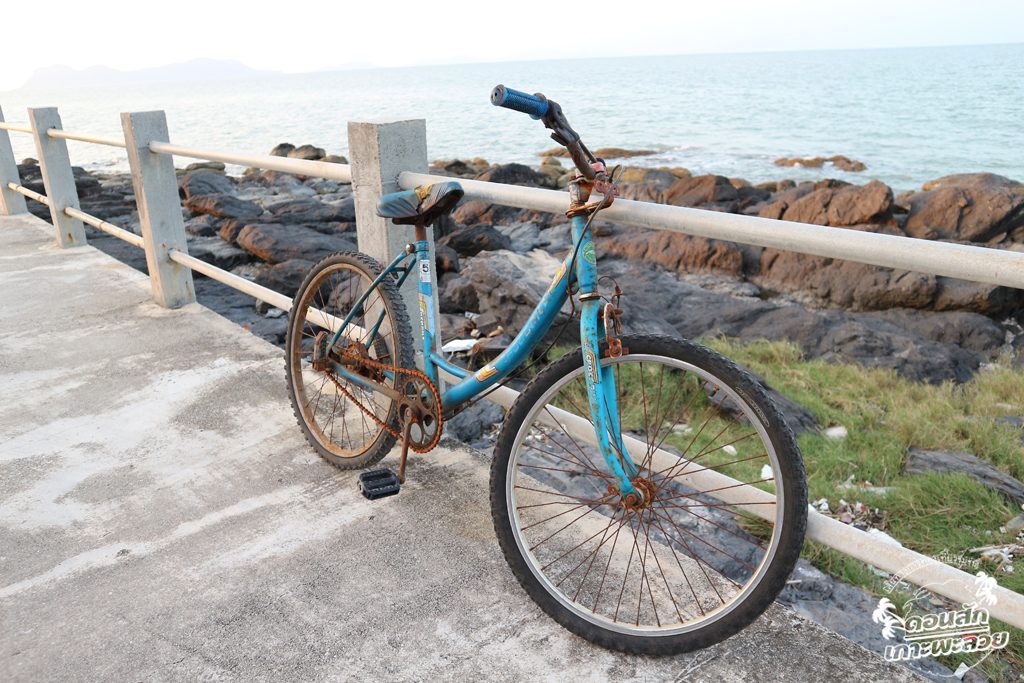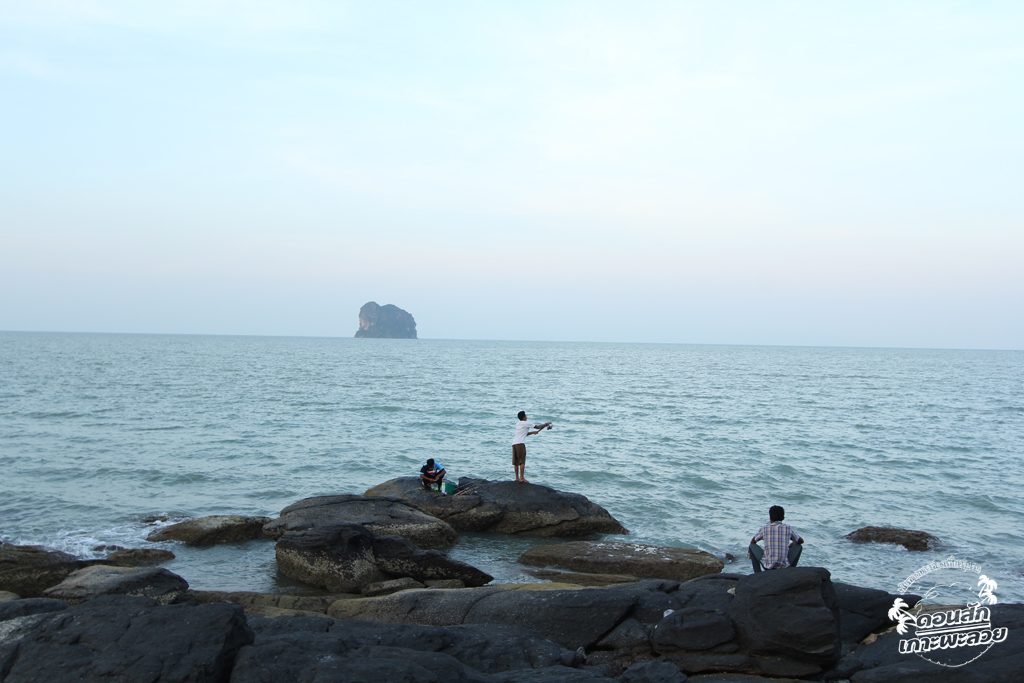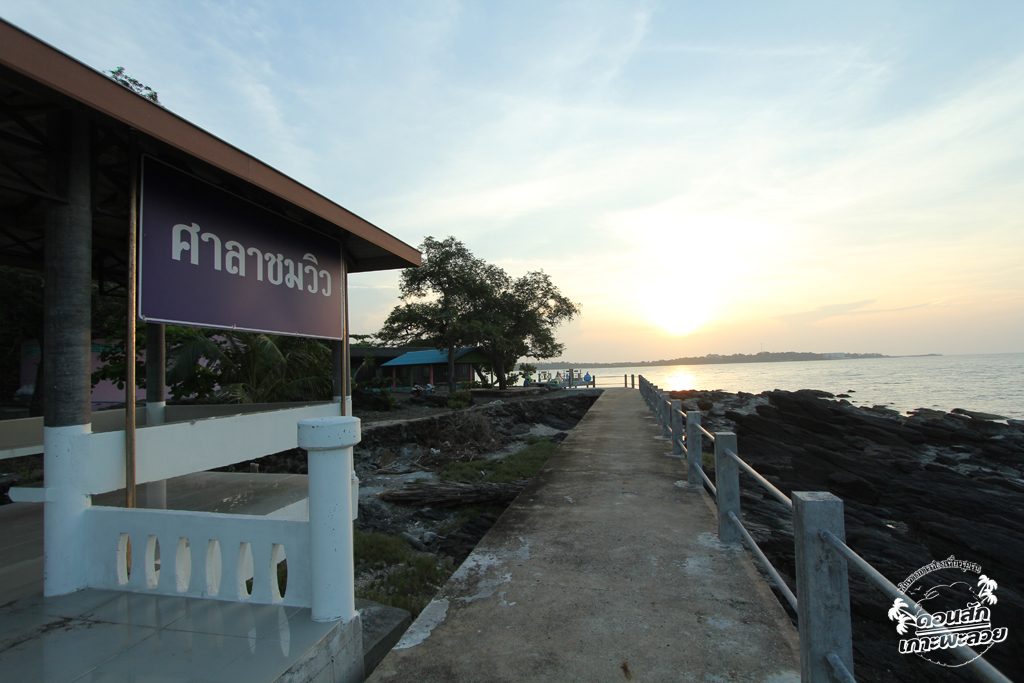 After a walk touring around the island, it is evening time so we find a place to watch and taking photos of the sunset at Koh Rat.  We wait to see the sunset near Ban Koh Rat School and we find that there is a lovely view point there.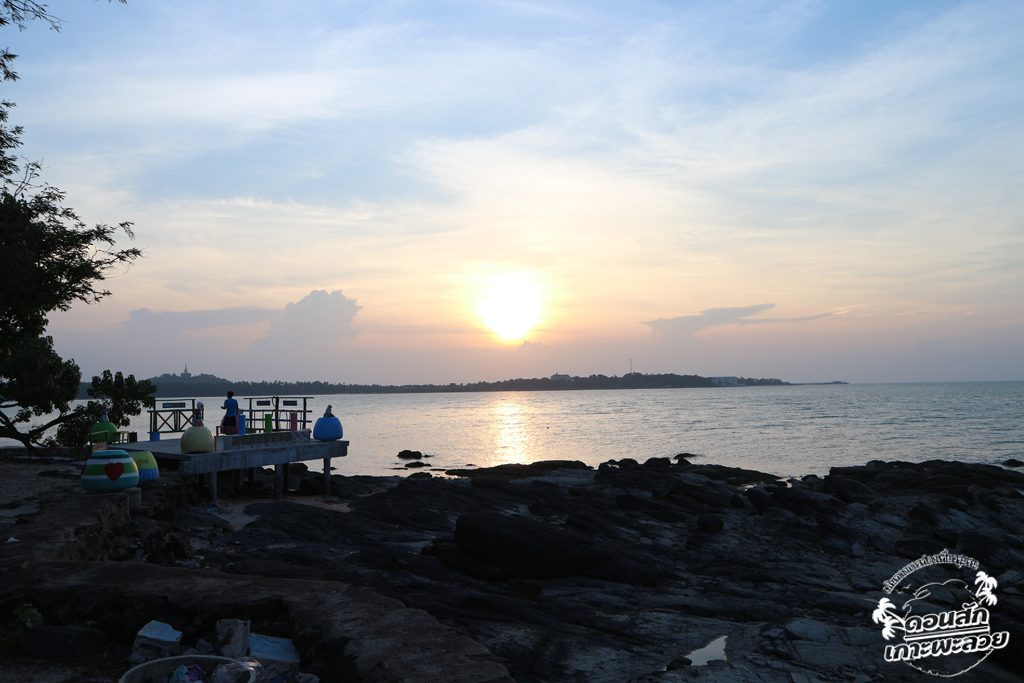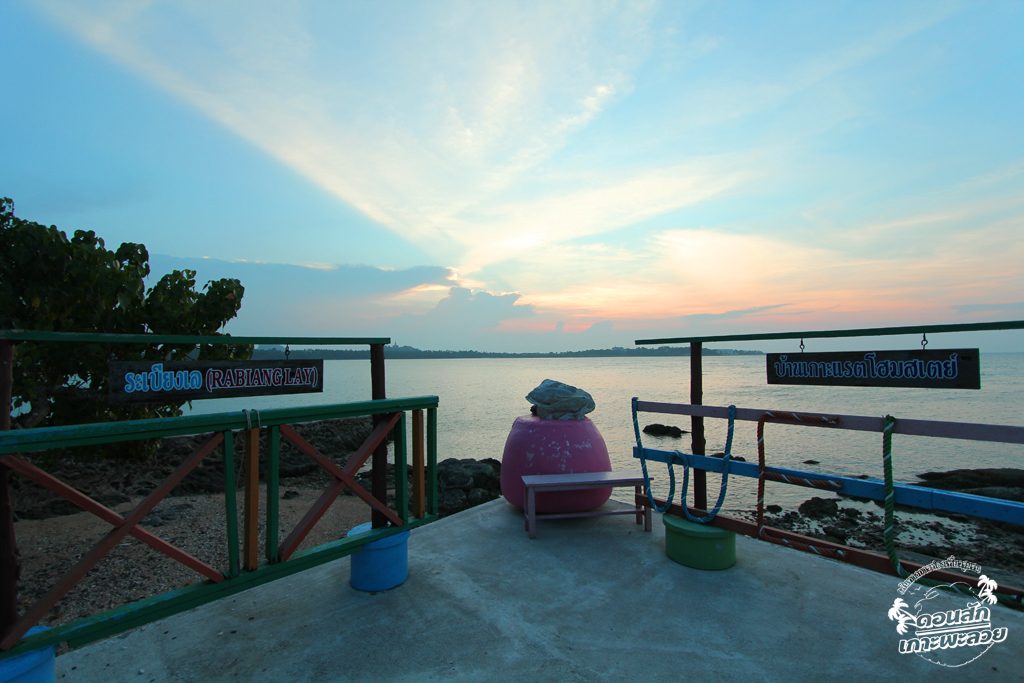 This area is located behind the school which has been changed to homestays. Tourists can stay in the school building. We waited for the sunset for a while and took lots of lovely photos.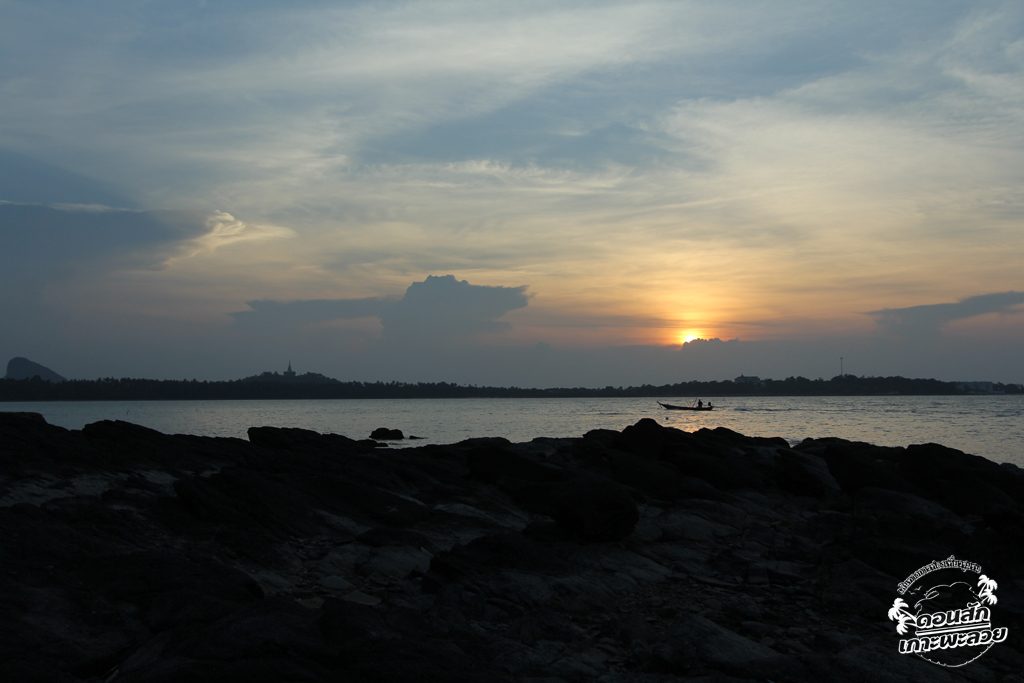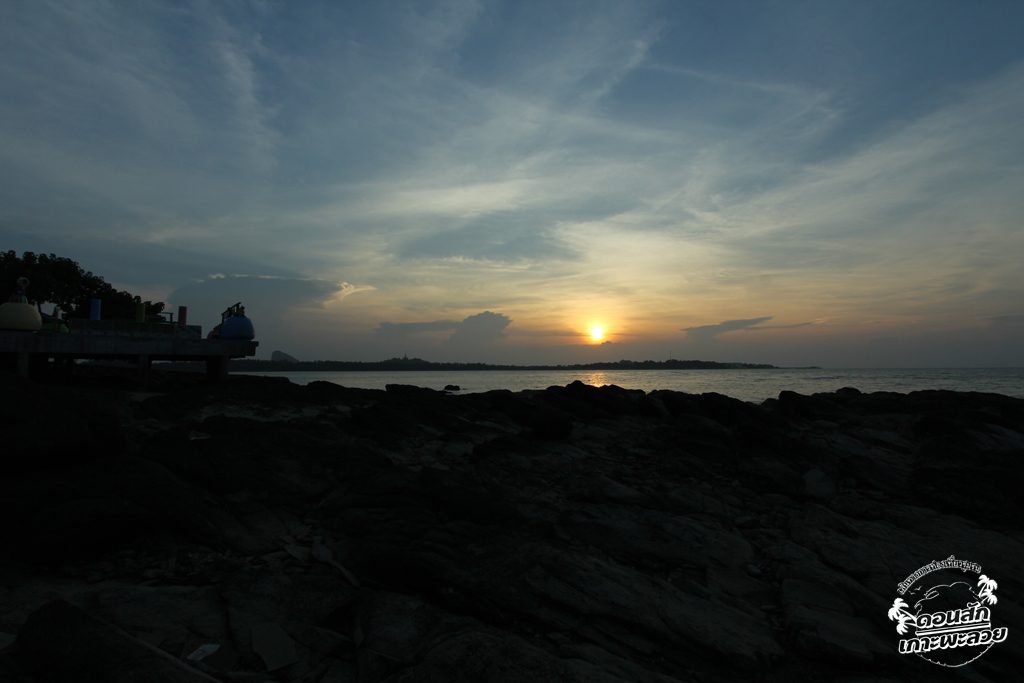 After the sunset sightseeing, we walk past the school to Teacher Nit's homestay. When we arrive at the homestay, Teacher Nit is cooking a dinner for our team. While waiting, we take photos of the evening time from the homestay balcony where we can see lights on theDonsak side and the pagoda at Khao Suwanpradit temple.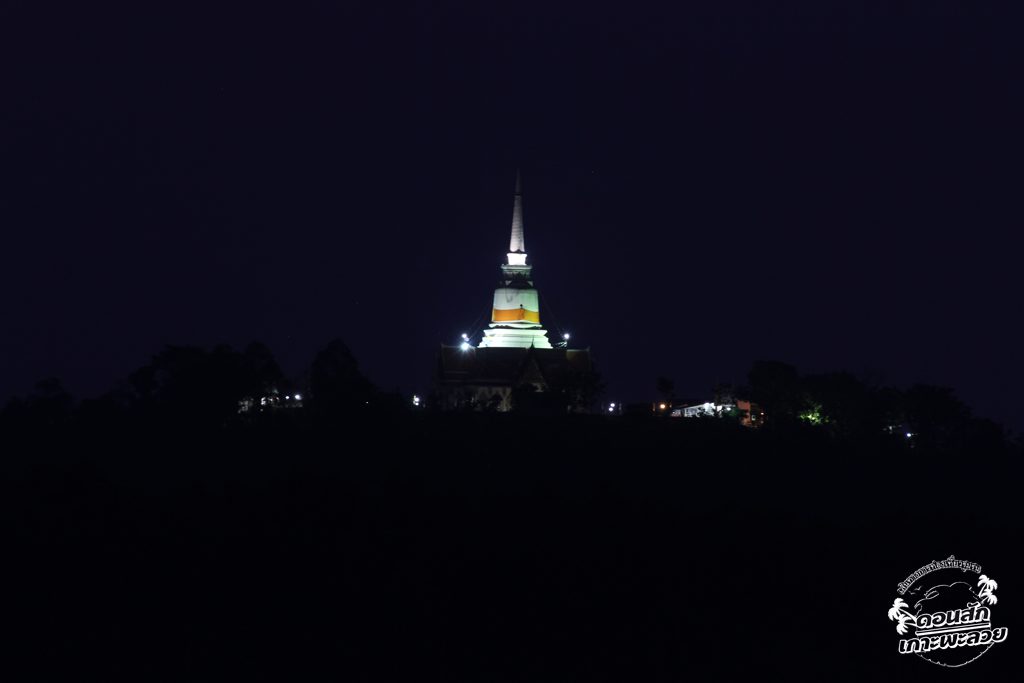 Dinneris prepared by Chef Teacher Nit. Teacher Nit asks us to eat as much as we'd like. There are various dishes namely spicy soup with orange curry paste, a soup with lemon grass and squid, streamed blue crab, fried salted fish, prawns, and fruits.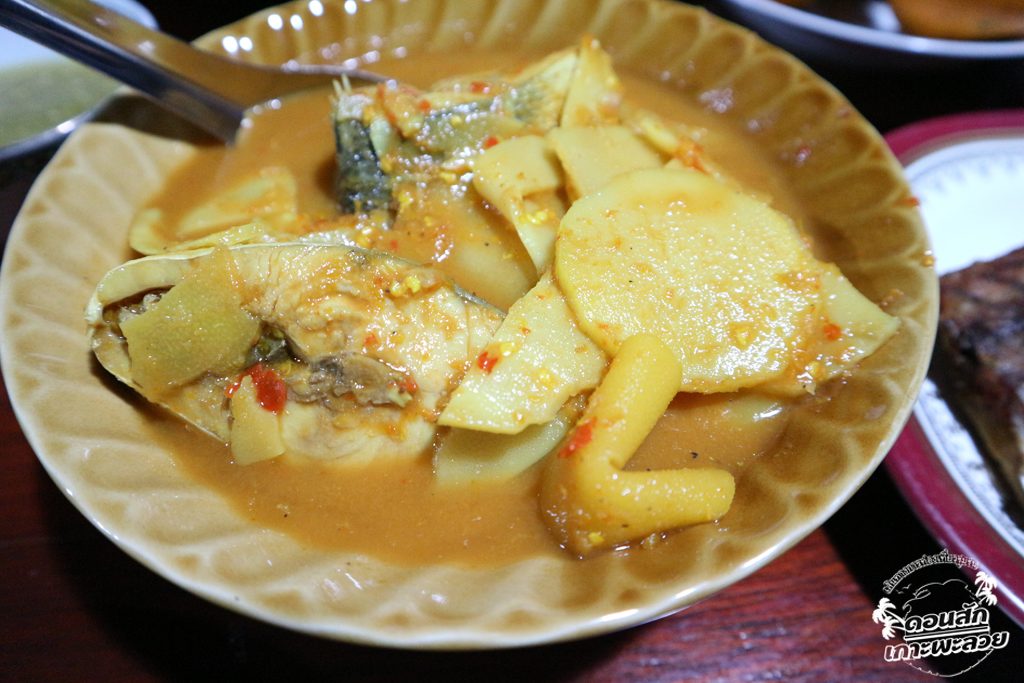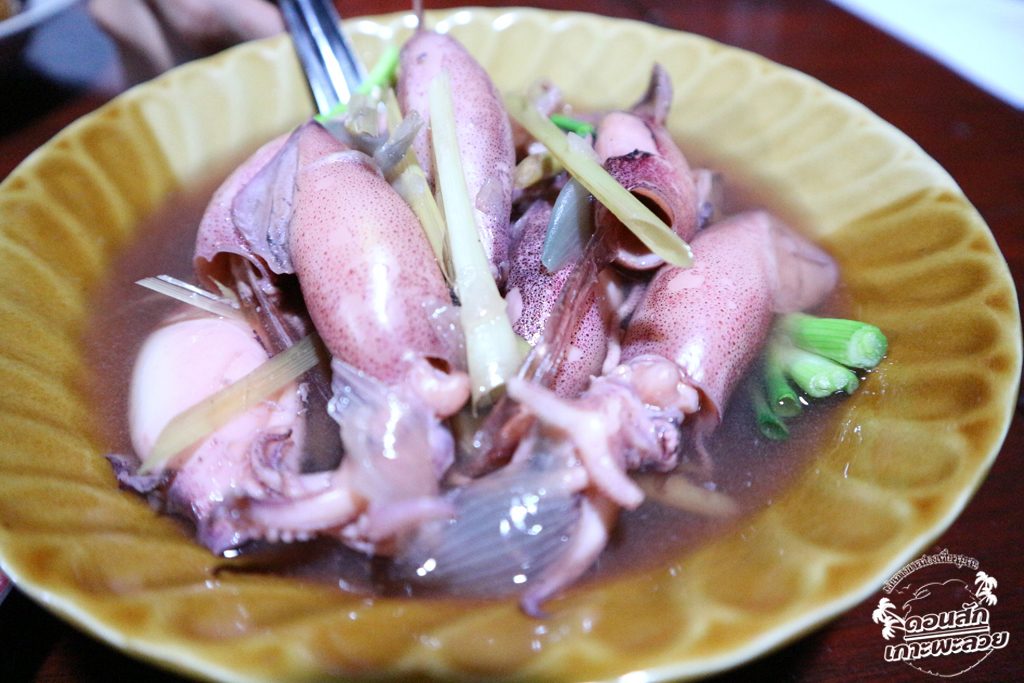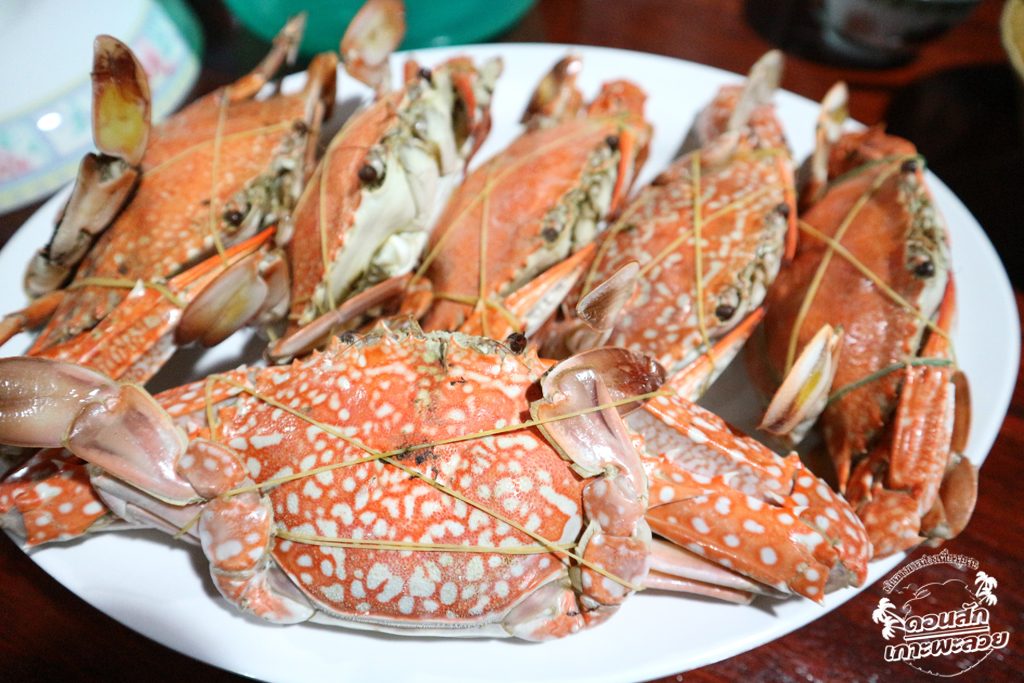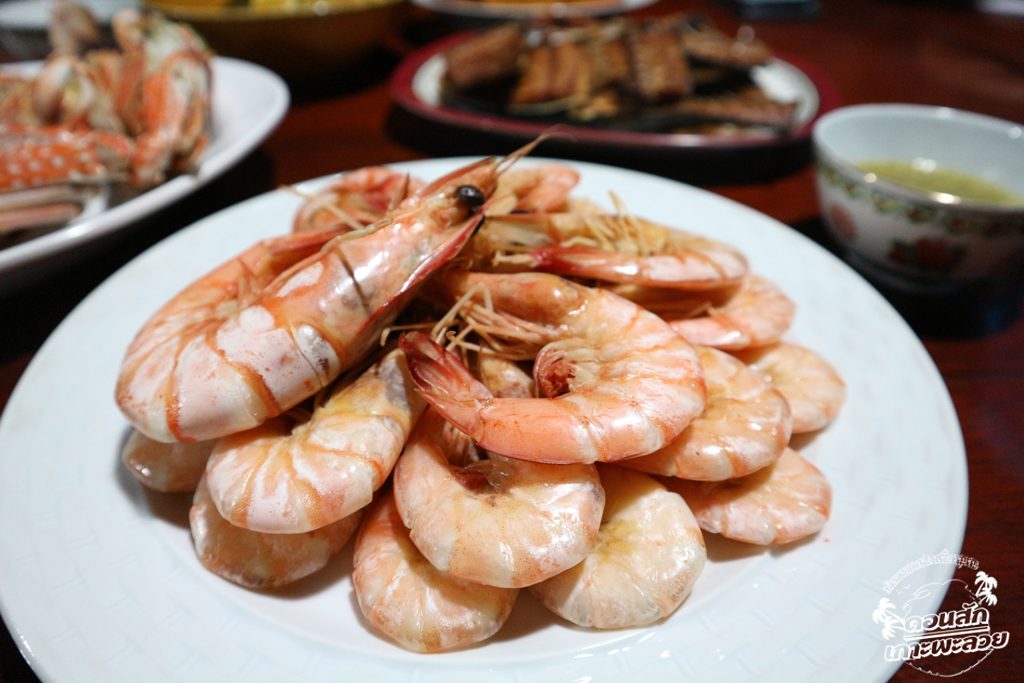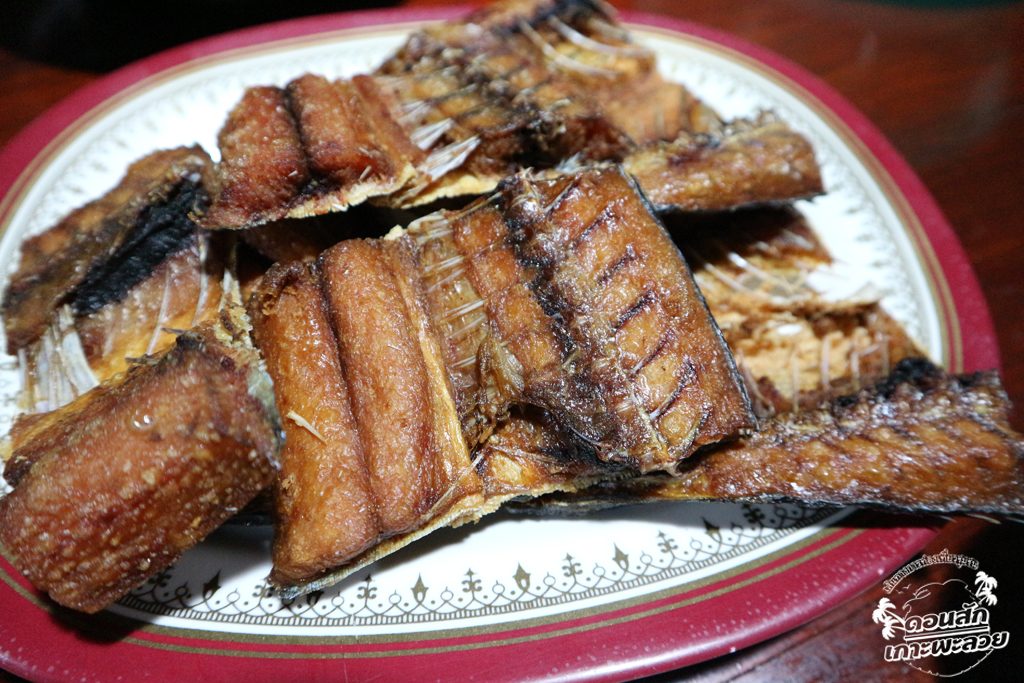 After the delicious dinner, we talk with Teacher Nit, the nice homestay owner. She tells the story of Koh Rat Bridge.  In the past, it took a long time to get toDonsak to wait for the ship and the old bridge wasruined. Accordingly, villagers delivered a message to King Rama 9 who kindly ordered the building of the new bridge which was officially opened on July 13th, 2010.  The king's daughter, Her Royal Highness Princess Chulabhorn Mahidol came to the opening ceremony of the bridge.  The bridge is named 'Sirirat'. Teacher Nit told us that that she was there to welcome the princess as the Koh Rat villager.  All villagers feel pleased to welcome the princess crossing the bridge to Koh Rat. Although it is a small island, the princess pays attention to their home.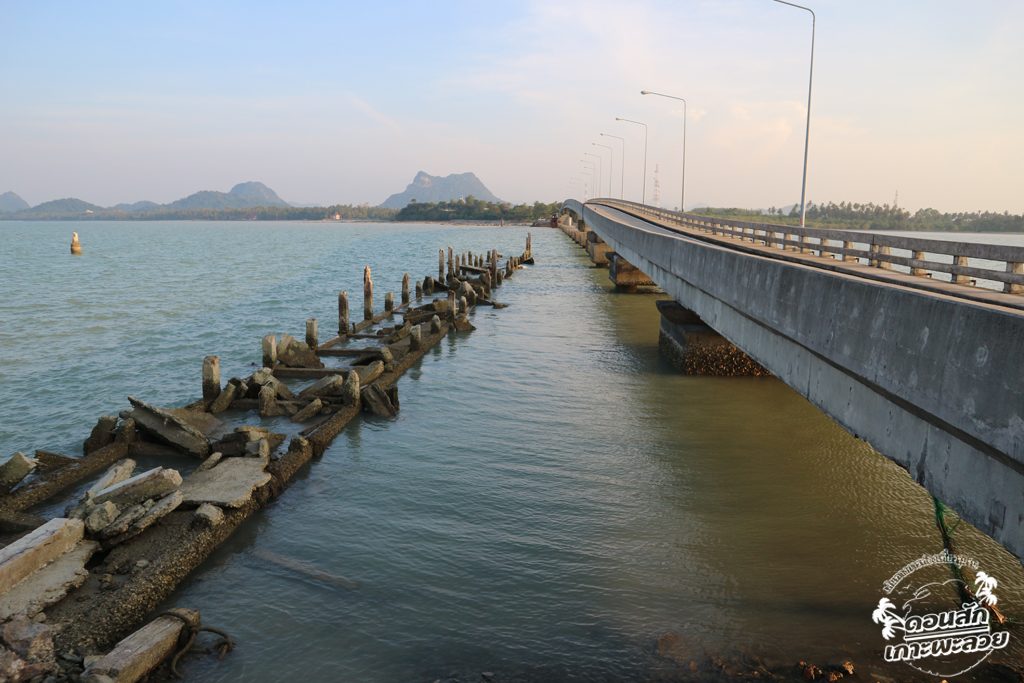 Our team wakes up early to take some sunrise photos.  We walk to Ban Koh Rat School while it is still dark and cool.  It is really nice weather.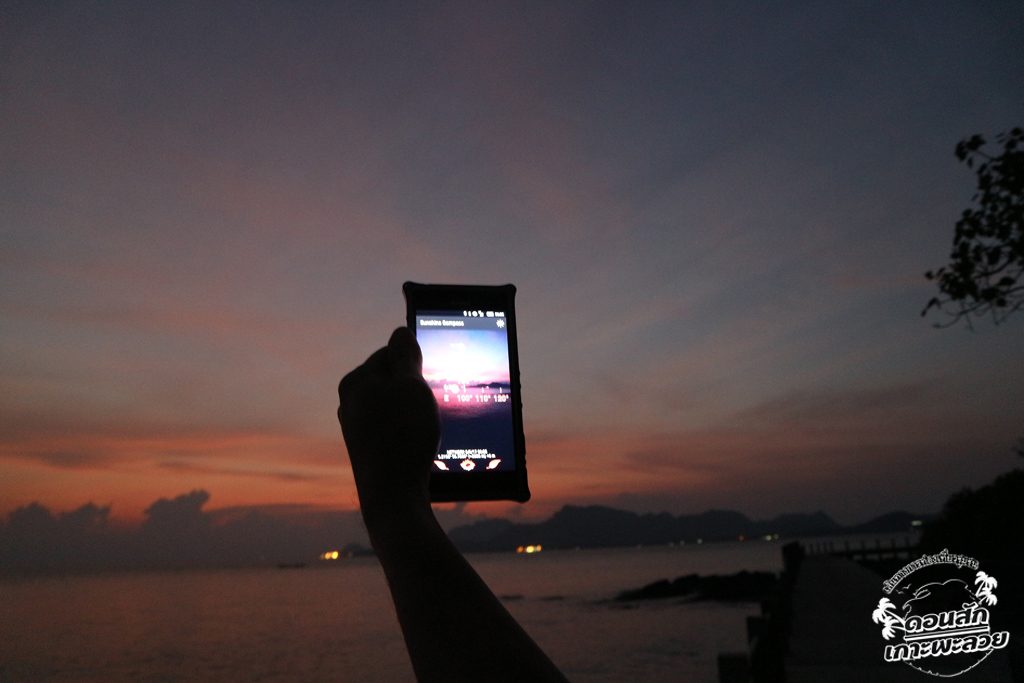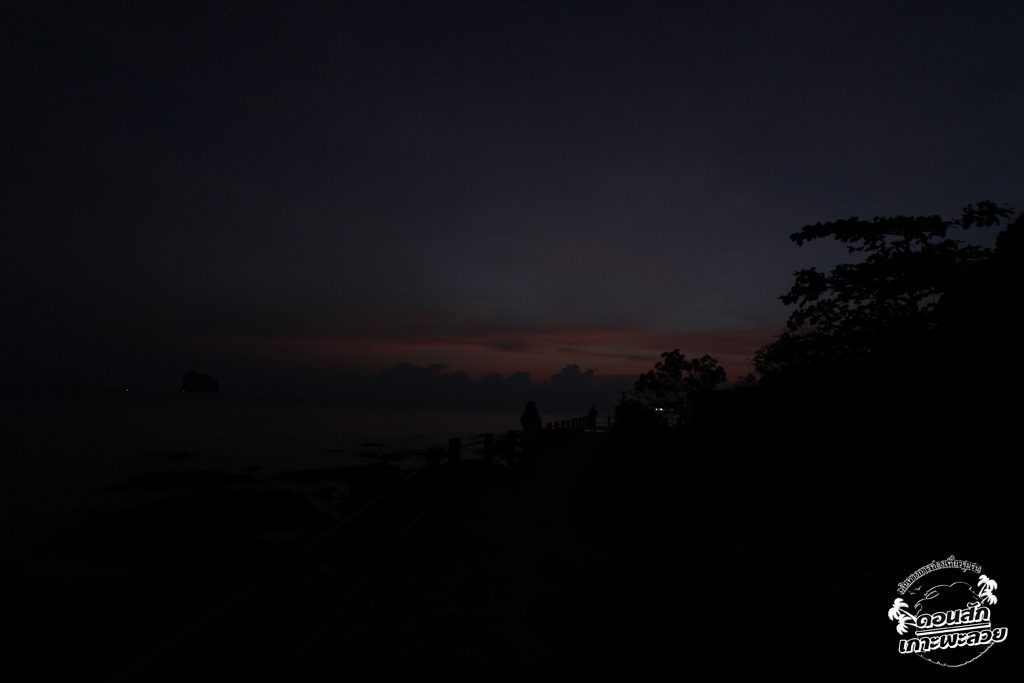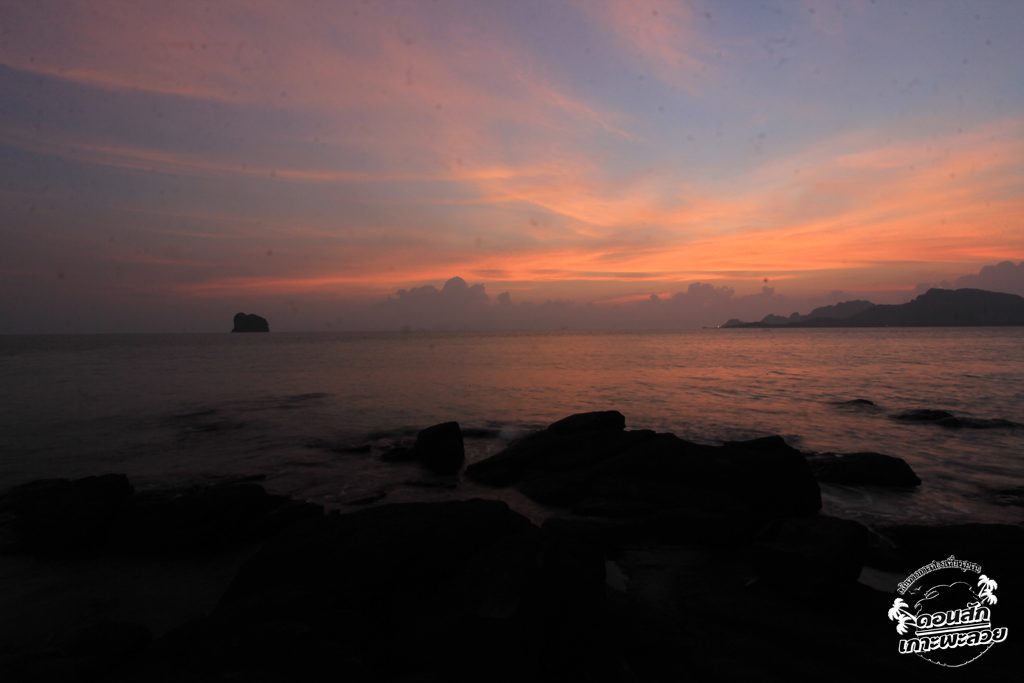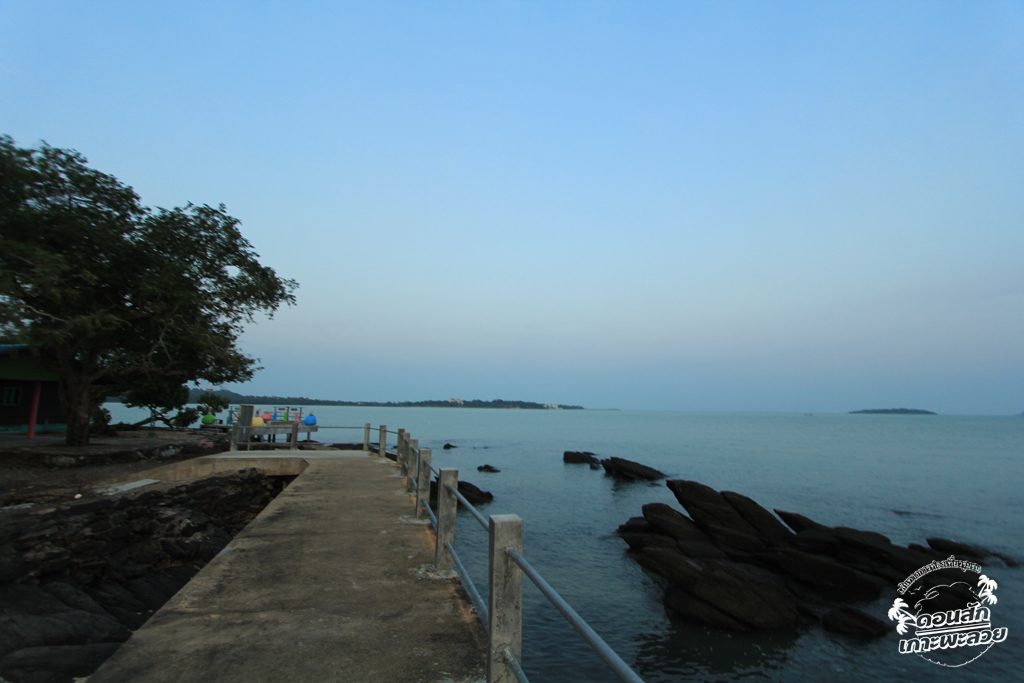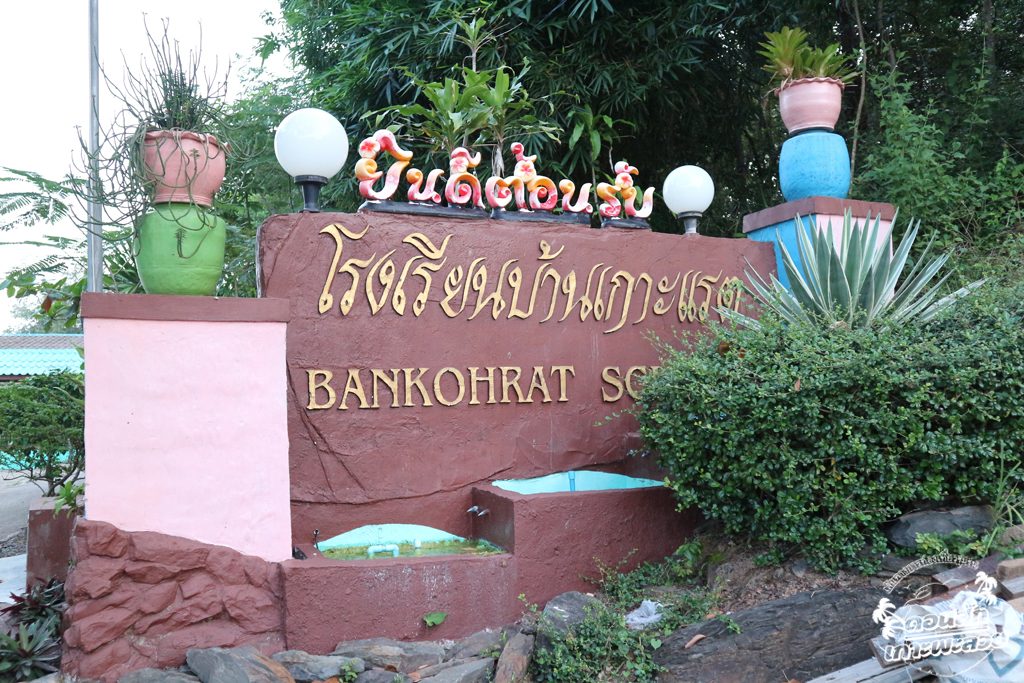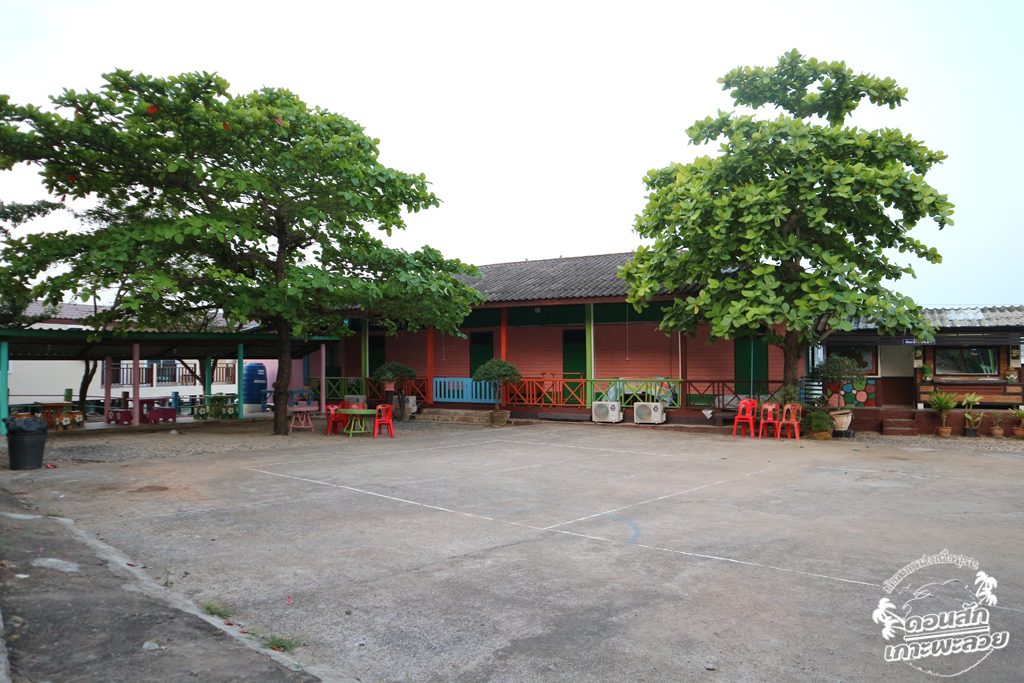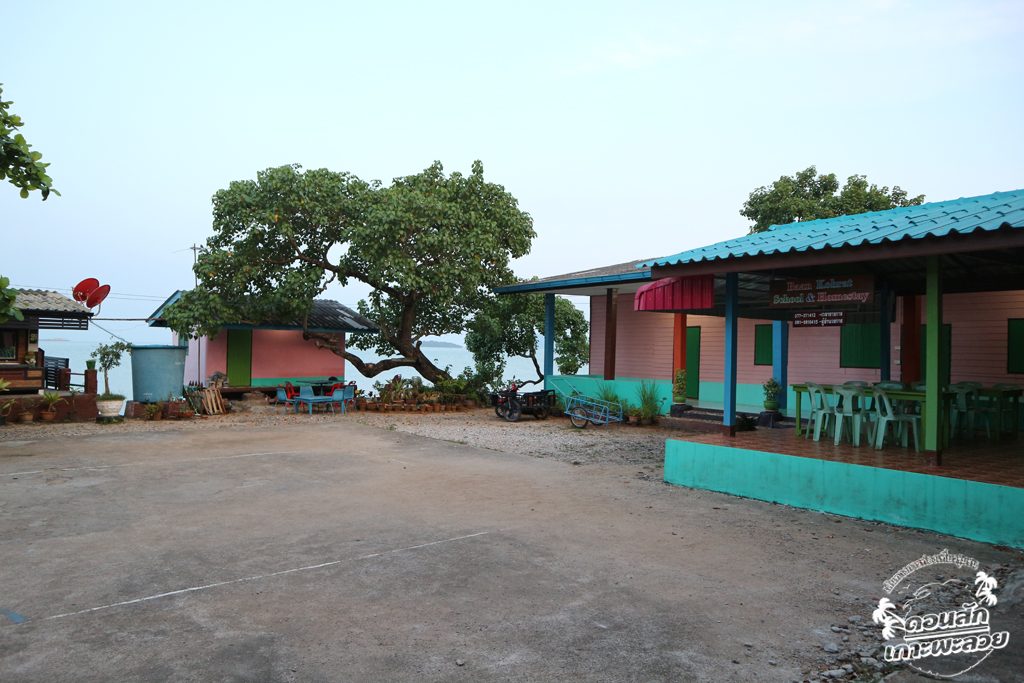 While waiting for the sunrise, we can see elderly people walking for exercise on the pedestrian path and they always say hello.  We feel that people here are nice and warm.  After watching the sunrise, we take a bath and go dolphin watching. Teacher Nit is preparing breakfast for us. The menu consists of boiled rice soup and deep-fried dough stick.
It is time for dolphin watching. Teacher Nit kindly helps us find a boat and we negotiate the fee for our group.  We board the ship at the island entrance.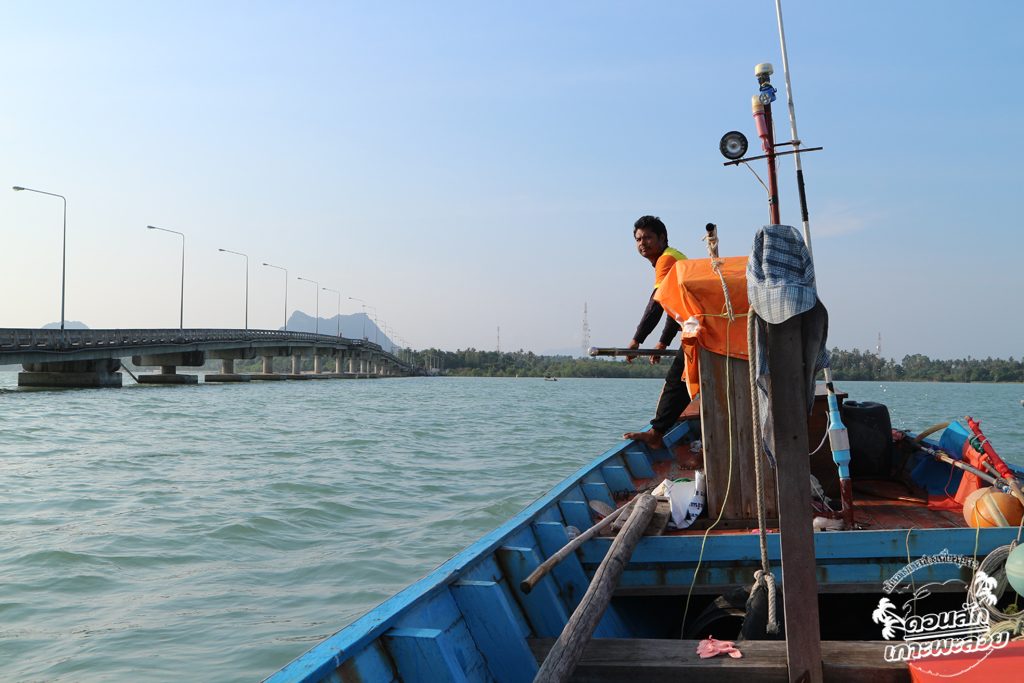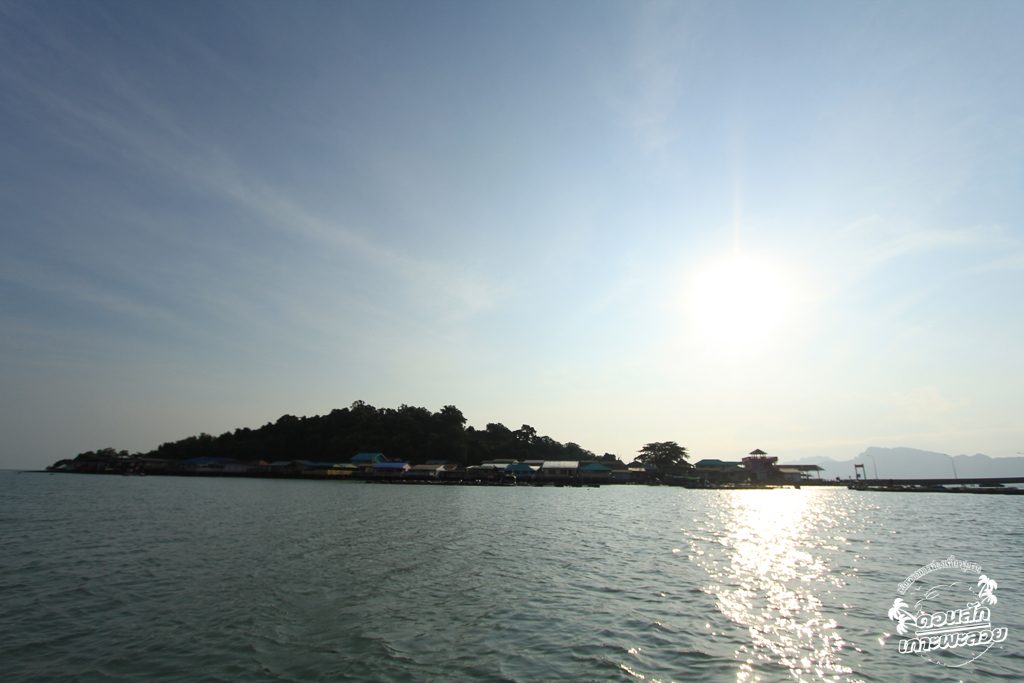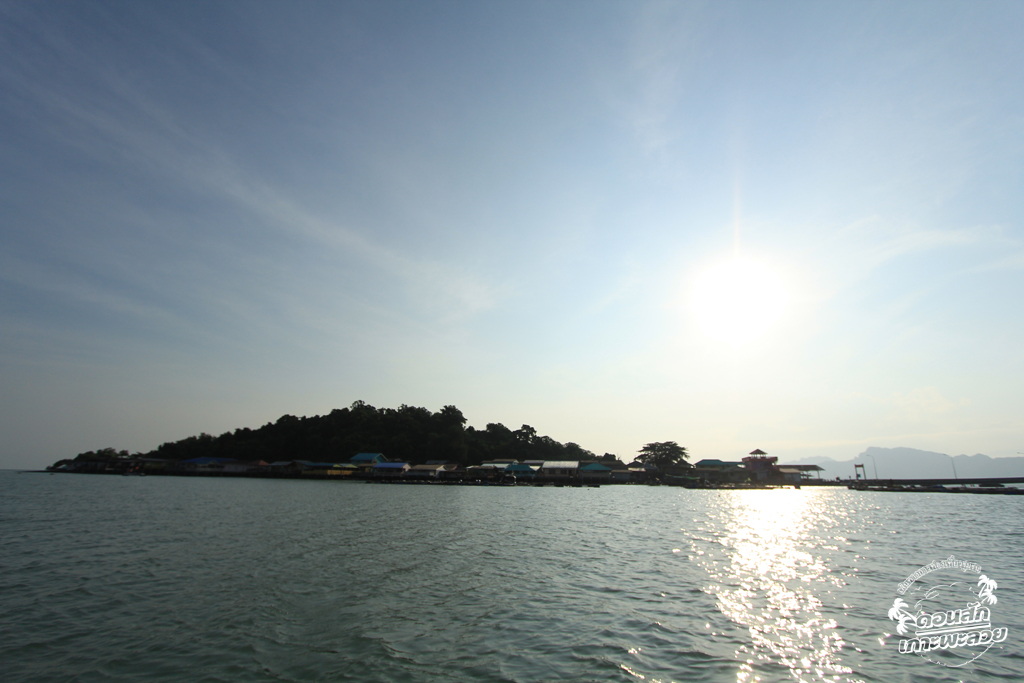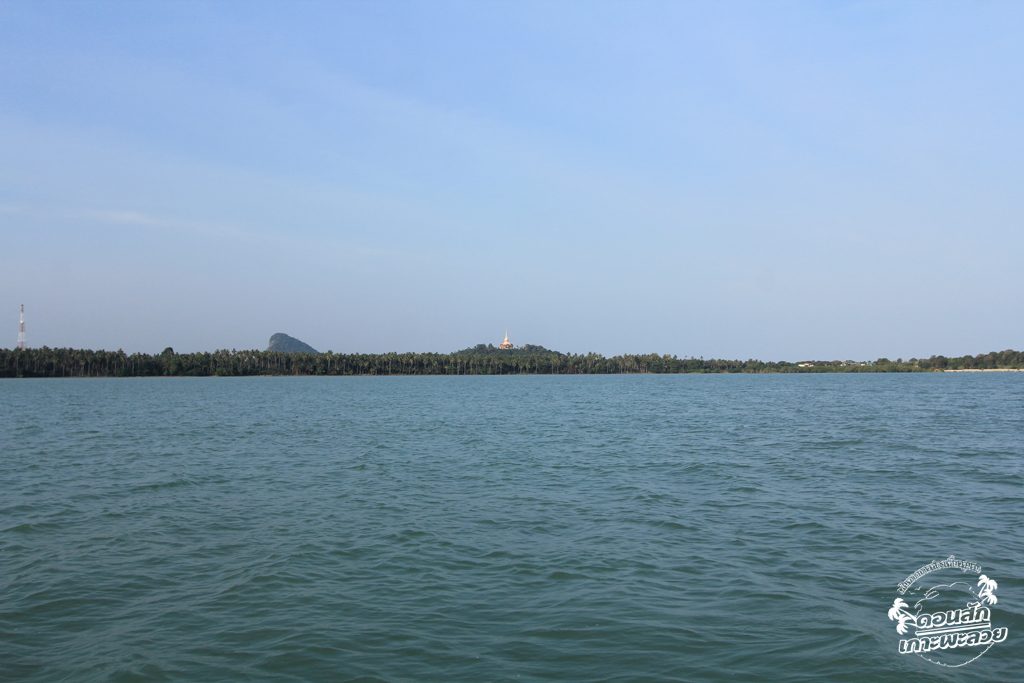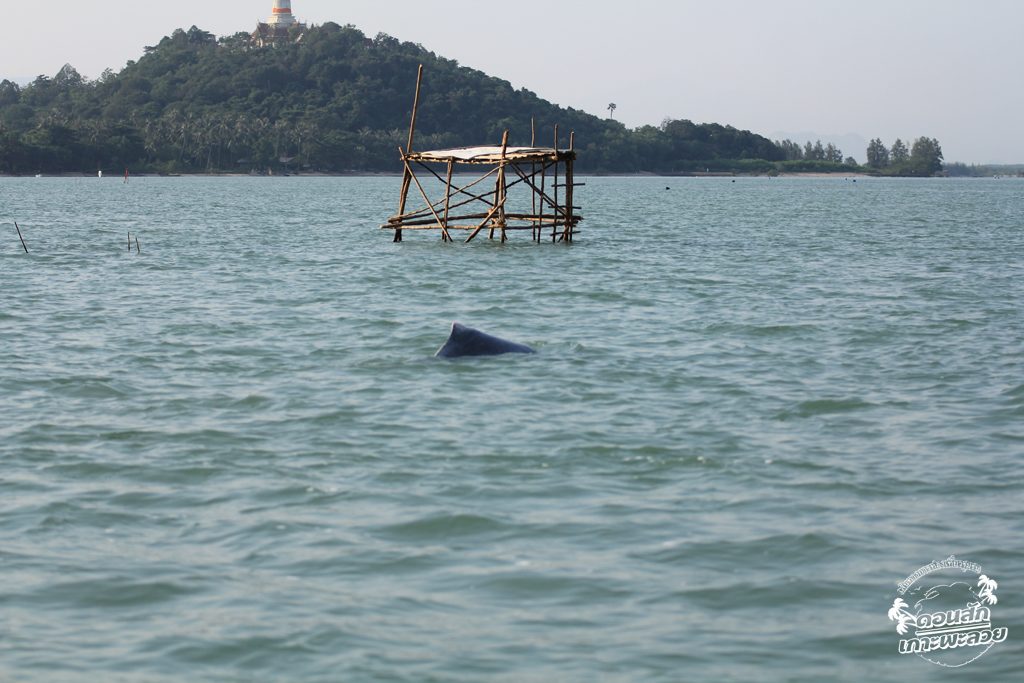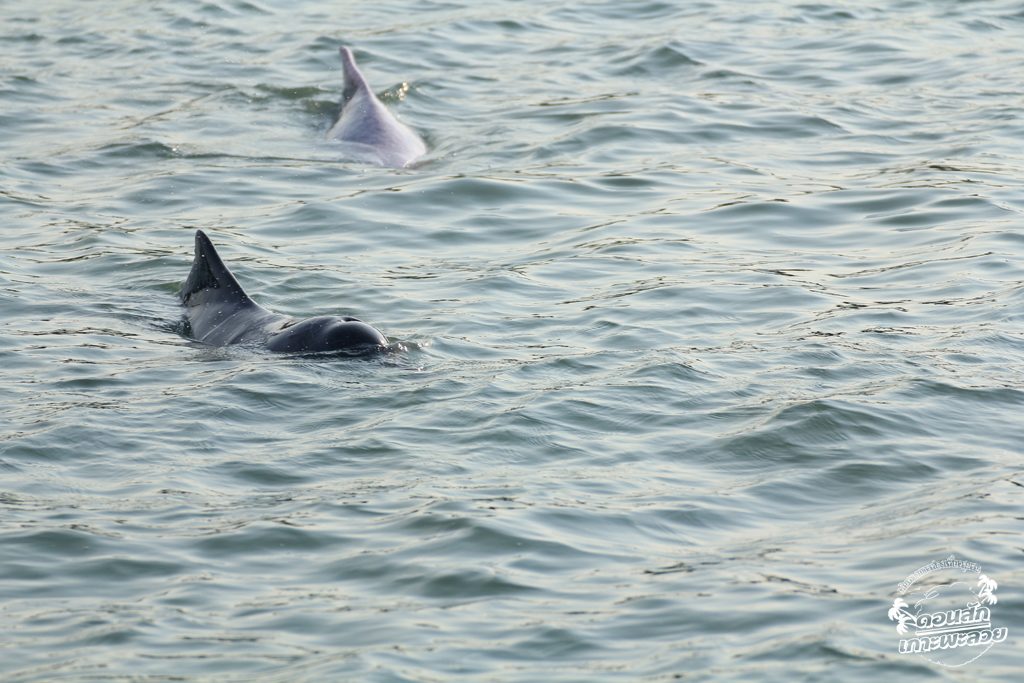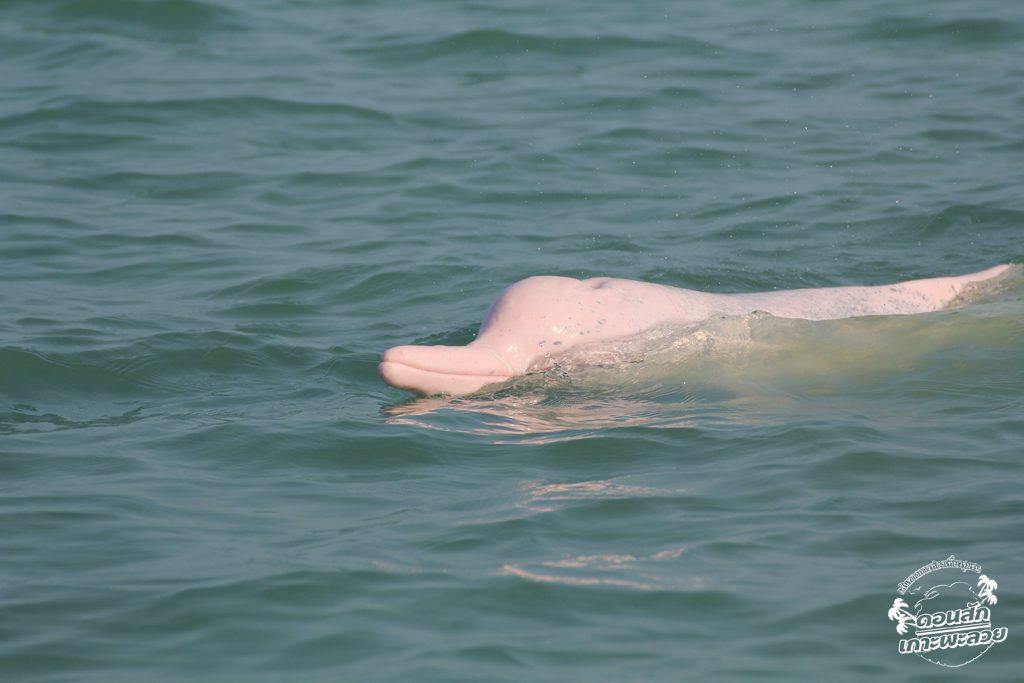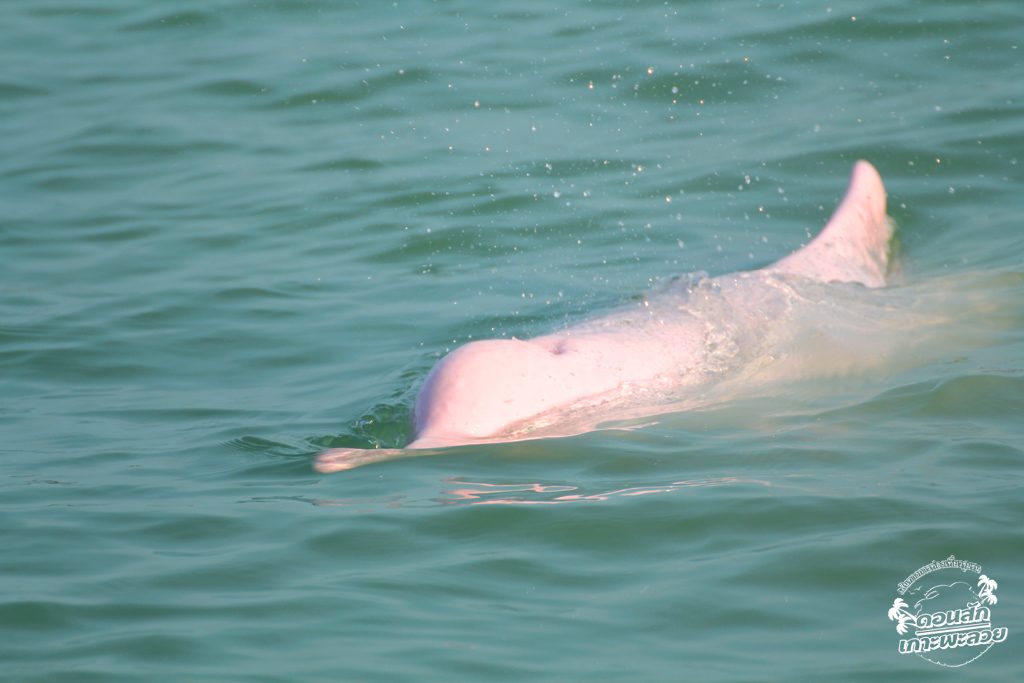 Pink dolphins can be seen at Koh Rat, Donsak district, Surat Thani.